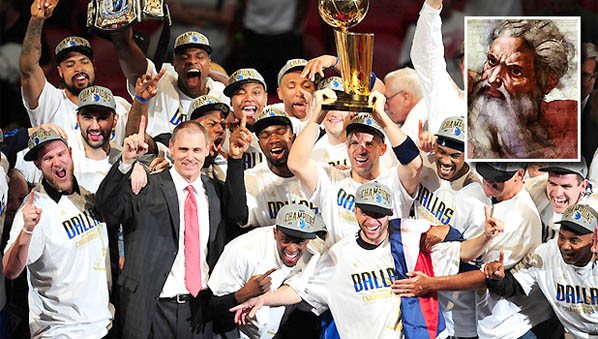 The FBI is currently investigating allegations that God, divine being and heavenly Father, fixed the 2011 NBA Finals after a series of comments and Tweets made by several NBA players surfaced on Monday.
According to a law enforcement official, authorities plan to meet with LeBron James over a comment the Heat star made on Twitter regarding The Lord's involvement in the series.
"The Greater Man upstairs know when it's my time. Right now isn't the time," James Tweeted shortly after the Heat lost to the Mavericks 105-95 in the decisive Game 6 of the NBA Finals.
Authorities were also tipped off by a number of comments Mavericks guard Jason Terry made during the series, implicating The Almighty's direct involvement in the outcome of several games.
"You know, to God be the glory. He gives me all the strength to go out here and perform at a high level," Terry said after the Mavericks' Game 5 win over the Heat.
The FBI has not indicated whether the NBA players themselves are under investigation for allegedly communicating and asking favors of the omnipotent being throughout the NBA Finals, but would not rule out any future legal action.
God, the Alpha and Omega, is also under investigation for fixing every sporting event ever played, but outside of hearsay testimony, authorities have yet to find any concrete evidence that connects the omniscient being to the outcome of games.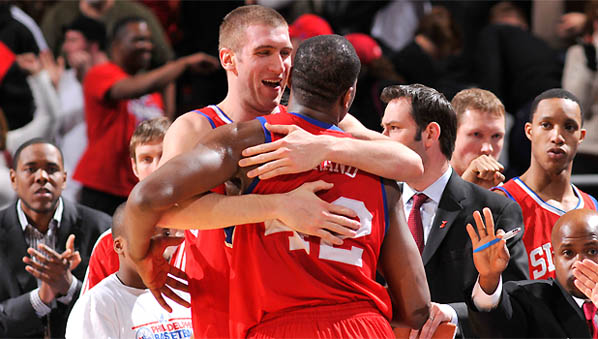 The Sixers capped off an improbable dream season by clinching an epic Game 4 win against the Miami Heat during the first round of the NBA playoffs.
"We did it! We shook up the world! We shook up the world!" said a champagne-covered Andre Iguodala after the Sixers were eliminated from the playoffs on Wednesday. "You grow up watching teams win playoff games and you hope that one day that could be you out there hoisting the game ball in front of your home crowd. No one thought we would even get this far, but here we are, baby! We shook up the world!"
Sixers head coach Doug Collins said Friday that while the team exceeded any and all expectations during the dream 2010-11 season, he fully expects the young core group of players to capture an Eastern Conference semifinal win next season.
"I know this is setting the bar pretty high, but I think we're ready to take the next step and become a slightly above average team next year," Collins said.
The Miami Heat dropped to a disappointing 5-4 record this season after a 112-107 loss to the Celtics on Thursday and players have already begun pointing fingers at veteran forward Juwan Howard for his lack of production thus far.
"Everybody knows that as Juwan goes, so goes the Heat," LeBron James said of Howard, who is averaging 0.0 points per game in two appearances this season. "We had such high expectations coming into the season and I think they're starting to get to him a little."
Howard said publicly on Friday that he has already begun to regret his decision to join the Heat this offseason.
"I'm only one guy. I'm gonna need some help from Dwyane [Wade] and them, too," Howard added.
In response to Jesse Jackson's comments comparing Cavaliers owner Dan Gilbert to a slavemaster and LeBron James to a runaway slave, an actual runaway slave reported Tuesday that he has very little, if anything, in common with LeBron James.
"I suppose we have a similar skin tone," the runaway slave admitted on Tuesday. "But I was captured and lost my foot when I ran away from my owner. When LeBron ran away from his owner, he was rewarded with $110 million. Please, feel free to stop me when these stories start to sound similar."
When asked of his response to Gilbert's letter to Cavaliers fans, the runaway slave said "he sounded more like a whiny owner of an NBA team that just lost his meal ticket."
Obnoxious sports network ESPN and renowned narcissist LeBron James have landed in hot water with the FCC after fucking on national television for more than 60 minutes on Thursday.
ESPN had been warned by the FCC for fellating the two-time MVP numerous times in the past, but the consensual love-making session on Thursday night may finally earn the network a substantial fine.
"ESPN has shown that they're incapable of reporting on LeBron James without making it sexual," said one FCC official. "We want to send the message that this is no longer acceptable behavior for a so-called respectable news network."
The FCC is also investigating James' autoerotic behavior on TV and the internet over the past several weeks, citing that the former Cavalier has "been feeling himself a little too much lately."