Report: God under investigation for fixing 2011 NBA Finals
By Zaki, PhillyGameday.com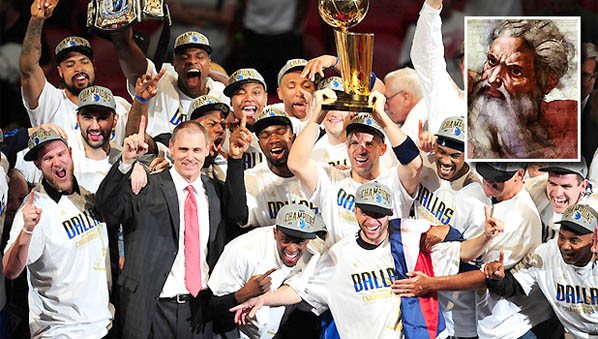 The FBI is currently investigating allegations that God, divine being and heavenly Father, fixed the 2011 NBA Finals after a series of comments and Tweets made by several NBA players surfaced on Monday.
According to a law enforcement official, authorities plan to meet with LeBron James over a comment the Heat star made on Twitter regarding The Lord's involvement in the series.
"The Greater Man upstairs know when it's my time. Right now isn't the time," James Tweeted shortly after the Heat lost to the Mavericks 105-95 in the decisive Game 6 of the NBA Finals.
Authorities were also tipped off by a number of comments Mavericks guard Jason Terry made during the series, implicating The Almighty's direct involvement in the outcome of several games.
"You know, to God be the glory. He gives me all the strength to go out here and perform at a high level," Terry said after the Mavericks' Game 5 win over the Heat.
The FBI has not indicated whether the NBA players themselves are under investigation for allegedly communicating and asking favors of the omnipotent being throughout the NBA Finals, but would not rule out any future legal action.
God, the Alpha and Omega, is also under investigation for fixing every sporting event ever played, but outside of hearsay testimony, authorities have yet to find any concrete evidence that connects the omniscient being to the outcome of games.
Zaki is the Chief Rocka and senior writer for PhillyGameday.com and thinks you should hurry up and follow the site on Twitter and Facebook before it's too late.