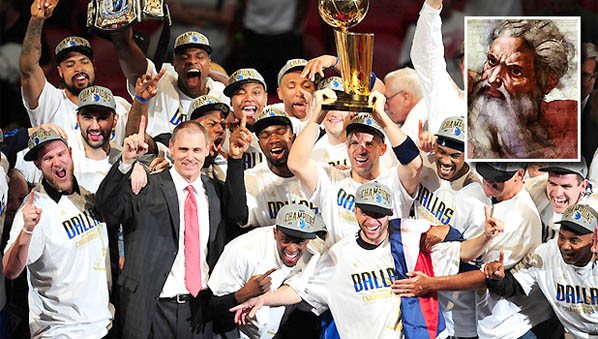 The FBI is currently investigating allegations that God, divine being and heavenly Father, fixed the 2011 NBA Finals after a series of comments and Tweets made by several NBA players surfaced on Monday.
According to a law enforcement official, authorities plan to meet with LeBron James over a comment the Heat star made on Twitter regarding The Lord's involvement in the series.
"The Greater Man upstairs know when it's my time. Right now isn't the time," James Tweeted shortly after the Heat lost to the Mavericks 105-95 in the decisive Game 6 of the NBA Finals.
Authorities were also tipped off by a number of comments Mavericks guard Jason Terry made during the series, implicating The Almighty's direct involvement in the outcome of several games.
"You know, to God be the glory. He gives me all the strength to go out here and perform at a high level," Terry said after the Mavericks' Game 5 win over the Heat.
The FBI has not indicated whether the NBA players themselves are under investigation for allegedly communicating and asking favors of the omnipotent being throughout the NBA Finals, but would not rule out any future legal action.
God, the Alpha and Omega, is also under investigation for fixing every sporting event ever played, but outside of hearsay testimony, authorities have yet to find any concrete evidence that connects the omniscient being to the outcome of games.
The Sixers currently hold the eighth seed in the Eastern Conference with a 14-21 record, which puts the team on a historic pace to become the worst to make the NBA playoffs since the 2010 Chicago Bulls.
"To find a team this bad in position to make the playoffs, you'd have to go back almost 12 months," NBA commissioner David Stern said of the Sixers. "Just to give you some perspective, LeBron was still with the Cavs and, if you can believe it, Evan Turner was still in college the last time this happened."
The Pacers are 1 1/2 games ahead of the Sixers as the seventh seed in the conference with a 14-18 record and if both teams end up making the playoffs, they could become the worst duo to play in the postseason since 2009.
The Miami Heat dropped to a disappointing 5-4 record this season after a 112-107 loss to the Celtics on Thursday and players have already begun pointing fingers at veteran forward Juwan Howard for his lack of production thus far.
"Everybody knows that as Juwan goes, so goes the Heat," LeBron James said of Howard, who is averaging 0.0 points per game in two appearances this season. "We had such high expectations coming into the season and I think they're starting to get to him a little."
Howard said publicly on Friday that he has already begun to regret his decision to join the Heat this offseason.
"I'm only one guy. I'm gonna need some help from Dwyane [Wade] and them, too," Howard added.
In response to Jesse Jackson's comments comparing Cavaliers owner Dan Gilbert to a slavemaster and LeBron James to a runaway slave, an actual runaway slave reported Tuesday that he has very little, if anything, in common with LeBron James.
"I suppose we have a similar skin tone," the runaway slave admitted on Tuesday. "But I was captured and lost my foot when I ran away from my owner. When LeBron ran away from his owner, he was rewarded with $110 million. Please, feel free to stop me when these stories start to sound similar."
When asked of his response to Gilbert's letter to Cavaliers fans, the runaway slave said "he sounded more like a whiny owner of an NBA team that just lost his meal ticket."
Obnoxious sports network ESPN and renowned narcissist LeBron James have landed in hot water with the FCC after fucking on national television for more than 60 minutes on Thursday.
ESPN had been warned by the FCC for fellating the two-time MVP numerous times in the past, but the consensual love-making session on Thursday night may finally earn the network a substantial fine.
"ESPN has shown that they're incapable of reporting on LeBron James without making it sexual," said one FCC official. "We want to send the message that this is no longer acceptable behavior for a so-called respectable news network."
The FCC is also investigating James' autoerotic behavior on TV and the internet over the past several weeks, citing that the former Cavalier has "been feeling himself a little too much lately."
Kwame Brown held a press conference on Thursday announcing the official start to the "Summer of Kwame", the highly anticipated start to the NBA's free agent period when, according to Brown, "the world will finally find out where I will play next season."
Brown listed the 32 NBA teams with enough salary cap space to sign him and said that he would carefully weigh his options before "giving one team the good news."
"I'll probably meet with Dwyane [Wade] and Chris [Bosh] to see if they're interested in playing together," said Brown, who averaged 3.3 points per game last season with the Pistons. "I'm also waiting on at least 23 teams to return my phone calls, so things are definitely looking good for Kwame."
Though Brown continues to insist that he is the most sought-after free agent on the market, conflicting reports from rasho-nesterovic.com are claiming this to be the "Summer of Rasho."
Though widely thought to be a front-runner to land free agent forward LeBron James, the Philadelphia 76ers have reportedly withdrawn their interest in the NBA's Most Valuable Player.
"After some careful thought, we realized LeBron James just wouldn't be a good fit for this team," said 76ers GM Ed Stefanski. "He's an outstanding player, but at the end of the day, we could never see a guy like that playing in Philadelphia."
With the Sixers' pursuit of James at an end, the team will reportedly now shift its focus to not pursuing free agent guard Dwyane Wade.
Andre Iguodala jumped into the LeBron James playing football discussion on Friday by saying that he's "pretty confident" he could at least do a better job out there than Michael Vick.
Standing at 6'6″, Iguodala has the height necessary to see over lineman, and the coke-bottle vision to see what everyone else is thinking, but he may lack the arm strength and accuracy to be an effective NFL quarterback.
"If I committed myself to the game of football, I think I would be pretty good at it," Iguodala said on Friday. "That goes for other sports too, like baseball, MMA and maybe even basketball."
Philly Gameday has learned that the recent State Farm commercial featuring LeBron James playing for the Cleveland Browns was actually based on a nightmare James had about playing for the 4-12 team.
"I woke up one night in a cold sweat thinking I was on a team that could only win one home game all season," James said. "I was so shook up and had to tell someone, so I got my agent on the phone. Next thing I know, they turn it into a commercial pretending I would actually want to play for such a god-awful team."