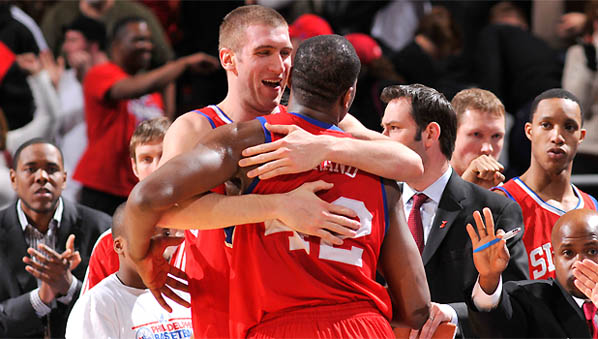 The Sixers capped off an improbable dream season by clinching an epic Game 4 win against the Miami Heat during the first round of the NBA playoffs.
"We did it! We shook up the world! We shook up the world!" said a champagne-covered Andre Iguodala after the Sixers were eliminated from the playoffs on Wednesday. "You grow up watching teams win playoff games and you hope that one day that could be you out there hoisting the game ball in front of your home crowd. No one thought we would even get this far, but here we are, baby! We shook up the world!"
Sixers head coach Doug Collins said Friday that while the team exceeded any and all expectations during the dream 2010-11 season, he fully expects the young core group of players to capture an Eastern Conference semifinal win next season.
"I know this is setting the bar pretty high, but I think we're ready to take the next step and become a slightly above average team next year," Collins said.
Rapper Lil Wayne issued an apology for his role in the Sixers' loss to the Kings on Sunday afternoon after several members of the team attended his concert the night before.
"I accept full responsibility for what went down on Sunday," Lil Wayne, aka Weezy, said during a Tuesday press conference. "I should have been more aware of the affect my rhymes have on the outcome of NBA games. In the future, I promise to be more careful."
Of the Sixers' 36 losses this season, Lil Wayne's silky flow and taunt rhymes have accounted for 35 of them, while the team's poor play could only account for a single loss to the Cavaliers back in November.
The Federal Communications Commission announced Friday that it is now safe for the public to begin viewing Sixers games again, overturning a January 2010 ruling that deemed televised Sixers games to be "too offensive for public consumption."
"We gave the team several chances to clean up broadcasts last year and not subject viewers to so much Andre Iguodala, but we saw no change and eventually had to pull the plug," said FCC chairman Julius Genachowski. "Last month, we re-visited the idea of letting them back on TV and we're happy to announce they are in full compliance with basic standards of entertainment."
While the FCC has given the OK for viewers to tune into the Sixers, they issued a warning to the team that playoff hockey and basic Phillies Spring Training news could force another ban on broadcasts.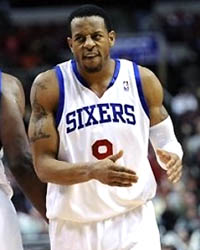 Ever since Allen Iverson left in a trade to Denver in 2006, the Sixers have widely been regarded as 'Andre Iguodala's team,' and with that team's performance over the past few years, it's no wonder that the Illinois native has taken heat as an underachiever.
But, is that fair?
It seems too easy to say that, after seven years, Iguodala just isn't the superstar player we originally thought he could be and that the Sixers would be better off without him.
The issue no one seems to want to address is that Iguodala could very well be one of the most talented players in NBA history, whose elite-level basketball skills are being misused and wasted in Philadelphia.
At 6'6″, Iguodala is the same height as one Michael Jeffrey Jordan, who was, by my estimate, the greatest basketball player ever. Fortunately for Jordan, he didn't have to spend one minute of his career playing for the Sixers, so his career path wasn't choked and beaten before it even began as was the case with Iguodala.
According to many projections, Iguodala could average as many as 90 points per game with 70 rebounds, 45 assists, 30 steals and 40 earth-shattering dunks if he played with any other team in the league. Other, more conservative estimates have him averaging only 70 points per game, but you get the picture.
It may be time to end the Iguodala experiment and allow his talent to flow freely with another NBA team, like the Timberwolves or maybe the Warriors. It is not too late for the Sixers to right the ship and become a respectable franchise and for Iguodala to smash record after record on the way to making some other team trillions upon trillions of dollars by employing the future greatest player in NBA history.
It has become painfully obvious that Iguodala will not work in Philadelphia, but the world deserves to see the forward's true talent, and if that means having to trade him to another team that will automatically become the greatest team in NBA history for years to come, then so be it.
The Sixers are reportedly close to shipping an Adidas Red Basic Logo Adjustable Hat to an Abington home for $15.95, marking the first SixersShop.com transaction since 2006 when a pair of black NBA Logoman socks were accidentally purchased and returned for $8.95.
A source browsing the site first reported the deal via Twitter with the message "on sixersshop.com…thinkin about gettin a hat." The Sixers later confirmed the deal was in place after receiving an alert that someone had finally added an item to their cart.
The Sixers are confident that the deal will be finalized soon, but are also reportedly shopping a replica Evan Turner jersey to anyone that wants one.
The 76ers have reportedly contacted the Denver Nuggets about a deal for star forward Carmelo Anthony and are willing to kill swingman Andre Iguodala to make it happen.
"My sources tell me that the Sixers are willing to go as far as killing Iguodala if it meant that Carmelo would be a Sixer," ESPN's Mark Stein said on Wednesday. "The Nuggets would also receive actual players from the Sixers and a possible draft pick, but the death of Iguodala seems to be the centerpiece of the deal."
The Nuggets have yet to respond to the snuff-and-trade deal, but Sixers have reportedly contacted the other 28 NBA teams with a similar offer to maim Iguodala in exchange for any player at all.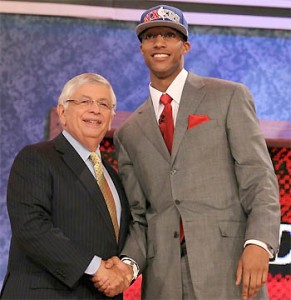 Philadelphia sports fans reportedly broke their historic tradition of booing and throwing urine-soaked snowballs at draft picks when they cheered the 76ers' selection of Evan Turner at the NBA draft on Thursday.
Though cheering for draft picks is a staple among non-Philly sports fans, Philly fans have historically berated athletes on draft day. However, that custom came to an end when Turner was selected with the second overall pick and greeted with warm applause by fans, marking the first such embrace by fans in Philadelphia sports history.
The most notable case of deplorable behavior by Philly fans on draft day was during the 1999 NFL draft when Donovan McNabb was booed unmercifully as he was selected with the Eagles' second overall pick. It was widely speculated that Eagles fans were booing the organization for not selecting Heisman Trophy winner Ricky Williams, but later reports confirmed that Philly fans are the scum of the earth and want to boo everyone at all times.
In a less publicized case, Allen Iverson was booed off the stage as he was selected with the first overall pick by the 76ers in 1996. Cole Hamels, the Phillies first-round selection in the 2002 MLB draft, was also booed by a throng of fans at his home in San Diego, CA as he sat in his living room with family and friends. Altogether, some 2,622 athletes have been booed by crazed Philadelphia sports fans over the years.
According to a report probably published somewhere, one rogue fan was heard booing while Turner's name was announced during the draft, which was, according to the report, "yet another black eye for Philadelphia sports fans."
The Philadelphia 76ers have finally cut ties with their GM Ed Stefanski and replaced him with the NBA Draft Lottery machine after it was able to secure the second overall pick for the beleaguered franchise.
The machine, which will make decisions at random, will provide the Sixers with more consistency than the team had under Ed Stefanski.
"Those ping-pong balls have done more for our franchise in one hour than Ed did in three years, so this was an easy decision," said Sixers owner Ed Snider. "We have no idea how the machine works, but we're just glad it's on our side now."
The Sixers also announced that Stefanski will be given a new title as the guy that pulls the ping-pong balls from the new GM.
Though widely thought to be a front-runner to land free agent forward LeBron James, the Philadelphia 76ers have reportedly withdrawn their interest in the NBA's Most Valuable Player.
"After some careful thought, we realized LeBron James just wouldn't be a good fit for this team," said 76ers GM Ed Stefanski. "He's an outstanding player, but at the end of the day, we could never see a guy like that playing in Philadelphia."
With the Sixers' pursuit of James at an end, the team will reportedly now shift its focus to not pursuing free agent guard Dwyane Wade.
What a complete waste of a year of my life. I told everyone the day that this douchebag Eddie Jordan got hired that this would be a complete disaster, but did anybody listen to me? Hell no.
I knew this guy was no good from the door. You can't teach an old dog new tricks, and this guy's best trick was turning good teams into garbage, just like he did with the Sixers.
My Sixers were on the verge of becoming a solid NBA team before this guy came to town and ruined everything that Ed Stefanski put together the past few years. There's no way this team should lose 55 games with Andre Iguodala, Elton Brand and Thaddeus Young on our squad. No freakin' way. The blame falls squarely on that nutcase Eddie Jordan. If we had anyone else coaching this team, we'd be in the playoffs right now, guaranteed.
I know Larry Brown said he didn't want to leave the Bobcats, but how awesome would it be to have him back in Philly? I think Larry could guide the team to 50 wins, easy. As much as I want him back in town, I'll take anybody other than that puss coach and his Princeton offense that we had to watch on the court this year. I kid you not: I could win more than 27 games if I was the coach. I have more basketball knowledge in my thumb than this guy had in his oversized head.
I'm glad he's finally gone so the Sixers can finally get back to winning games. We have a solid team to build around and the draft is gonna be awesome this year since we finally have a good first-round pick, so I'm really looking forward to next year when we put it all together.
Let that doorknob hit you right in the ass on the way out, Eddie.