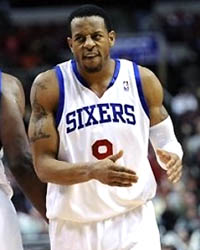 Ever since Allen Iverson left in a trade to Denver in 2006, the Sixers have widely been regarded as 'Andre Iguodala's team,' and with that team's performance over the past few years, it's no wonder that the Illinois native has taken heat as an underachiever.
But, is that fair?
It seems too easy to say that, after seven years, Iguodala just isn't the superstar player we originally thought he could be and that the Sixers would be better off without him.
The issue no one seems to want to address is that Iguodala could very well be one of the most talented players in NBA history, whose elite-level basketball skills are being misused and wasted in Philadelphia.
At 6'6″, Iguodala is the same height as one Michael Jeffrey Jordan, who was, by my estimate, the greatest basketball player ever. Fortunately for Jordan, he didn't have to spend one minute of his career playing for the Sixers, so his career path wasn't choked and beaten before it even began as was the case with Iguodala.
According to many projections, Iguodala could average as many as 90 points per game with 70 rebounds, 45 assists, 30 steals and 40 earth-shattering dunks if he played with any other team in the league. Other, more conservative estimates have him averaging only 70 points per game, but you get the picture.
It may be time to end the Iguodala experiment and allow his talent to flow freely with another NBA team, like the Timberwolves or maybe the Warriors. It is not too late for the Sixers to right the ship and become a respectable franchise and for Iguodala to smash record after record on the way to making some other team trillions upon trillions of dollars by employing the future greatest player in NBA history.
It has become painfully obvious that Iguodala will not work in Philadelphia, but the world deserves to see the forward's true talent, and if that means having to trade him to another team that will automatically become the greatest team in NBA history for years to come, then so be it.
Former 76ers guard Allen Iverson spoke openly on Tuesday about how he has long suffered through menacing addictions to everything ever, including alcohol, lamps, gambling, drama and Saved By The Bell reruns.
"You ever wake up in the middle of the night feenin' for a Snicker's wrapper?" Iverson said on Tuesday. "Not the Snicker's…not a Snicker's. I'm talkin' 'bout the wrapper. Well, that's where I am right now."
Iverson said that while he suffered from his addictions well before he was ever drafted by the 76ers in 1996, the money he made only made things worse for him and his family.
"When I was just a broke kid, I couldn't do much to feed my habit for diamond-encrusted diamonds," said Iverson. "But signing that first contract kind of enabled me and made that habit a lot worse. The money did help my addiction to 'broke' though. At least temporarily."
Iverson mentioned that although he suffered from addictions to Curling and Mongolia, it was his dependence on professional basketball and the city of Philadelphia that impacted him the most.
On the not-looking-so-good meter, Allen Iverson going anywhere near a party while he's on leave to attend to his sick daughter has to rank pretty high.
According to Sports by Brooks, Iverson spent Saturday night partying at Club 935 with Jermaine Dupri and at least one person Tweeted that our former franchise player was in attendance.
I won't read too much into this and say he's a horrible human being if this actually went down, but damn Allen, for once in your life, can you do the right thing? I know he's packing it in and doesn't care how this affects his professional life, but I can't imagine his family giving him the thumbs up to head down to Charlotte while his daughter is still sick.
Based on this and the fact that the Sixers seem to play better without AI, I'm wondering if a release is forthcoming.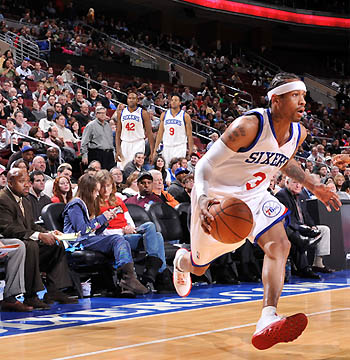 The Sixers have informed a couple nearby fans that they are probably gonna head out in a couple minutes to beat the traffic.
"There's not really much going on in the game right now, so we might as well head out," said Thaddeus Young to a few of his teammates early in the third quarter. "These seats were awesome and we should try to come back to catch another game, but it's getting pretty late."
The Sixers will take on the Lakers at home on on Friday night but they may not be able to stay for the whole game since they have to get up super early for work the next day.
Dear Mr. Charles Barkley,
Are you sure you should be telling other folks to decline invitations after what you did — or rather didn't do — on Saturday Night Live a few weeks back?
Barkley criticized Allen Iverson's starting nod for the upcoming NBA All-Star game and said the former two-time All-Star MVP should decline his invitation to let someone more deserving take his spot.
Really Charles?
Let's ponder this for a second: AI doesn't belong at an NBA All-Star game, but Charles Barkley belongs on stage to host a live sketch comedy show?
Maybe if the message was coming from Jeff Van Gundy — who I would love to see on SNL, by the way — then I'd let it slide, but coming from Charles, it's a joke.
Iverson may not be the second most talented guard in the league, but it's not like the fans voted in Vladimir Radmonovic. Cal Ripken started the 2001 MLB All-Star game when he was 40 years old and hitting .240. I don't think Iverson is quite as beloved as Ripken was in baseball, but obviously enough people enjoy watching him play to vote for him as an All-Star.
I've never heard one person say they enjoy Barkley's commentary on TNT, much less that they want to see him on SNL. So, if you want to talk about undeserved roles, let's start with the ones you find yourself in, Mr. Barkley.
Though the Sixers spent much of the first half of Monday's game against the Timberwolves playing actual basketball, they were able to find their stride with a strong surge of grab-ass in the second half.
"Anybody that watches us knows we're not a first-half team," said Allen Iverson on Tuesday. "Ideally, we'd love to start strong and keep it going, but for some reason we don't start playing good, solid grab-ass until the second half of the game. I can't explain it, but that's just what kind of team we are right now."
The Sixers will see if they're able to consistently grab ass for a full 48 minutes as they return home to face the Trailblazers on Wednesday.
The Sixers made a major move yesterday by guaranteeing that Allen Iverson will endure one of the longest and most painful seasons of his 14-year career.
"When we first brought him in here, we couldn't guarantee how this season would turn out," Sixers GM Ed Stefanski said on Wednesday. "Now that we've seen him perform with the rest of the team, we're able to guarantee that this is going to be a tough season for everyone involved."
Iverson celebrated the news by scoring four whole points to go with seven turnovers in Wednesday's come-from-ahead loss to the troubled Washington Wizards.
After having two procedures to drain fluid from its arthritic body, Allen Iverson's left knee has decided to call it quits. After 13 grueling seasons, Iverson's body has clearly taken a beating, but this is the first indication of surrender from an individual body part. The former MVP's left knee insists it can still compete at the highest level, but this decision will afford it more quality time with its anatomical family and friends, chiefly Iverson's elbow and shoulder.
"I always thought that when I left the game, it would be because I couldn't help Allen the way that I was accustomed to," said the desolate knee. "However, that is not the case. I'm still as capable as his right knee and believe I can compete with the best knees in the NBA."
Although Iverson, along with his left knee, missed the last two games, he insists he can coerce his knee to returning.
"My left knee spent some regrettable time in Detroit and Memphis followed by a month long vacation on my couch, but now we are home," said Iverson. "My right knee has recognized this opportunity…there is no reason my left won't."
Allen Iverson couldn't help but feel nostalgic during the latter half of Monday's 93-83 loss to the Nuggets, his first game back since signing with the Sixers last week.
"I know the fans really tried to make me feel at home to start the game, but I still felt out of place…like something was missing in the first half," said Iverson, who helped the Sixers take a 44-41 lead at halftime. "Once we started to throw up wild threes and forget to open our eyes on defense in the second half, I knew I was home. It's great to feel this way again."
The Sixers will face the Detroit Pistons at home on Wednesday, another one of Iverson's former teams, who also suck this year which should give the game a nice WNBA Finals-like feel.
Allen Iverson retired from the NBA last week after a 14-year career, but the former MVP has plans to stay busy now that his playing days are behind him. Iverson announced Wednesday that he will devote his time to helping out a local misfit basketball team.
"It was a hard decision for me and my family because I felt like I could still play in the NBA right now," Iverson said. "But I still want to stay around the game and if these guys could use my help, then I'll do what I can."
Iverson didn't know much about the Philadelphia 76ers basketball club before he was approached by team members over the weekend, but he was intrigued by suiting up to help raise funds for the failing team.
"We honestly didn't expect much out of Iverson when we approached him with the idea," said team dad and avid supporter Ed Stefanski. "I mean that's AI we're talking about and we're just a small potatoes basketball program trying to stay alive."
Area residents will be able to see Iverson for the first time on Monday as the struggling club will take on the NBA's Denver Nuggets at the Wachovia Center.