The Sixers are reportedly close to shipping an Adidas Red Basic Logo Adjustable Hat to an Abington home for $15.95, marking the first SixersShop.com transaction since 2006 when a pair of black NBA Logoman socks were accidentally purchased and returned for $8.95.
A source browsing the site first reported the deal via Twitter with the message "on sixersshop.com…thinkin about gettin a hat." The Sixers later confirmed the deal was in place after receiving an alert that someone had finally added an item to their cart.
The Sixers are confident that the deal will be finalized soon, but are also reportedly shopping a replica Evan Turner jersey to anyone that wants one.
The Philadelphia 76ers have finally cut ties with their GM Ed Stefanski and replaced him with the NBA Draft Lottery machine after it was able to secure the second overall pick for the beleaguered franchise.
The machine, which will make decisions at random, will provide the Sixers with more consistency than the team had under Ed Stefanski.
"Those ping-pong balls have done more for our franchise in one hour than Ed did in three years, so this was an easy decision," said Sixers owner Ed Snider. "We have no idea how the machine works, but we're just glad it's on our side now."
The Sixers also announced that Stefanski will be given a new title as the guy that pulls the ping-pong balls from the new GM.
Though widely thought to be a front-runner to land free agent forward LeBron James, the Philadelphia 76ers have reportedly withdrawn their interest in the NBA's Most Valuable Player.
"After some careful thought, we realized LeBron James just wouldn't be a good fit for this team," said 76ers GM Ed Stefanski. "He's an outstanding player, but at the end of the day, we could never see a guy like that playing in Philadelphia."
With the Sixers' pursuit of James at an end, the team will reportedly now shift its focus to not pursuing free agent guard Dwyane Wade.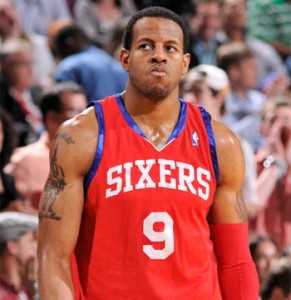 A 109-93 loss to the Orlando Magic on Monday night and the previous 46 losses this season have unofficially eliminated the Philadelphia 76ers from next year's playoffs.
"I'm not sure this is even news," Sixers GM Ed Stefanski said of the team's premature elimination. "News is when you inform someone of something they did not know. For example, in Pennsylvania, any motorist who sights a team of horses coming toward him must pull well off the road, cover his car with a blanket or canvas that blends with the countryside, and let the horses pass. For real.
"But, I think we know by now that next year doesn't look too great for us. Thanks for the obvious tip though. Keep up the good work."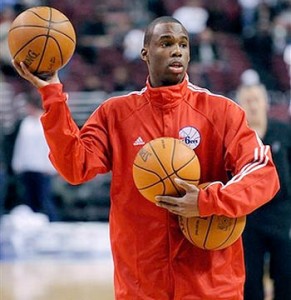 With a single free throw in the final minutes of a blowout loss to the Bulls on Sunday, the Jodie Meeks era officially began in the city of Philadelphia.
The Sixers acquired Meeks in a last-minute deadline deal last week in an effort to make the team better, or so we're told.
"We didn't feel like we were sellers at the trade deadline, so we decided to go out and make a deal to improve our club," said Sixers GM Ed Stefanski. "On the surface, this deal for Meeks looks like it was a wash and a waste of time, but if you look at it through Iggy's glasses, you might be able to see that we have a very, very…very slight edge. If you looks close enough…and squint a little."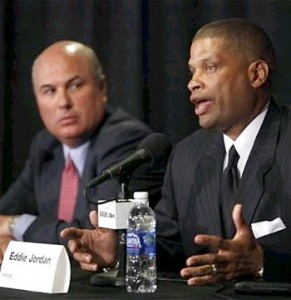 The Sixers released a formal apology letter on Thursday, asking for forgiveness after the team suffered an embarrassing five-game win streak that set them back at least two weeks.
The letter, sent to season ticket holders and various sponsors, referenced a "complete lack of focus" by the entire organization, which led to the team's spiral into one crippling win after another.
"The Philadelphia 76ers organization would like to sincerely apologize to our fanbase and many sponsors for a very disturbing trend that developed over the last two weeks," the apology letter read. "There will be no finger pointing as every member of our organization can bare blame for delaying the rebuilding process. Rest assured that this type of performance will not be tolerated and we can guarantee that this team will do whatever is necessary to earn back your trust. Just to show you that we are committed to ending any lengthy win streaks in the future, we are in the process of selling our entire roster to either Italy or possibly some Chinese basketball team and are prepared to offer you, our valued season ticket holder, a contract for the remainder of the season. In fact, we'll just leave the contract amount blank so you can just write in whatever you want. It doesn't matter. But please, we're begging you. Come run with us, literally. We are so tired of being a mediocre team and we know you are too, so come on out and we'll give you your own uniform and everything. Seriously. Your own uniform, with your name on the back, just like Andre Iguodala used to have before we sent him to Ecuador or some shit a couple minutes ago. See, we're already making moves. So, at least think about that offer. In the mean time, accept our apology and we'll hope to see you at the Wachovia Center, like right now! But if you're busy, we're cool with tomorrow. Either way, just give us a call or send us a tweet so we know you got this. Awesome. Go Sixers!"
The Sixers made a major move yesterday by guaranteeing that Allen Iverson will endure one of the longest and most painful seasons of his 14-year career.
"When we first brought him in here, we couldn't guarantee how this season would turn out," Sixers GM Ed Stefanski said on Wednesday. "Now that we've seen him perform with the rest of the team, we're able to guarantee that this is going to be a tough season for everyone involved."
Iverson celebrated the news by scoring four whole points to go with seven turnovers in Wednesday's come-from-ahead loss to the troubled Washington Wizards.
According to a team source, the Sixers may be working out a deal with the Houston Rockets that could finally rid the team of Andre Iguodala's talent and still take on Tracy McGrady's bloated contract at the same time.
Sixers GM Ed Stefanski would not confirm that a deal is forthcoming, but he did classify such a trade scenario as a "win-win" for the city of Philadelphia.
"Iggy's talent is a burden to any team trying to lose games and rebuild, which we've obviously been trying to do, unsuccessfully, for some time now," Stefanski said on Friday. "If we could dump him on the Rockets and get our hands on that fat, expiring contract of McGrady's, this team could really do some things."
The potential trade would give the Sixers the flexibility they need to completely suck ass this year and compete for a decent draft pick and have the necessary cap room at the end of the year to sign free agents.
Allen Iverson retired from the NBA last week after a 14-year career, but the former MVP has plans to stay busy now that his playing days are behind him. Iverson announced Wednesday that he will devote his time to helping out a local misfit basketball team.
"It was a hard decision for me and my family because I felt like I could still play in the NBA right now," Iverson said. "But I still want to stay around the game and if these guys could use my help, then I'll do what I can."
Iverson didn't know much about the Philadelphia 76ers basketball club before he was approached by team members over the weekend, but he was intrigued by suiting up to help raise funds for the failing team.
"We honestly didn't expect much out of Iverson when we approached him with the idea," said team dad and avid supporter Ed Stefanski. "I mean that's AI we're talking about and we're just a small potatoes basketball program trying to stay alive."
Area residents will be able to see Iverson for the first time on Monday as the struggling club will take on the NBA's Denver Nuggets at the Wachovia Center.
Elton Brand and Andre Iguodala were at the Wachovia center on Wednesday to take promotional photos with the Sixers new retro uniforms as a part of a massive rebranding campaign.
The change was well received by fans and members of the Sixers organization, especially Iguodala who was fired up about being able to wear the same uniform as Julius Erving on a full-time basis.
"Hey Elton, look what I can do," said a giddy Iguodala as he dunked a basketball in the Sixers new retro jersey and matching boxer shorts. "Did you see that? I bet I looked just like Dr. J, didn't I?"
Though the Sixers plan to unveil the new uniforms to the public in the coming days, the new roster is still on backorder and may not arrive for the next decade or so.