Jodie Meeks era underway with garbage time free throw
Updated:
February 22, 2010
By Zaki, PhillyGameday.com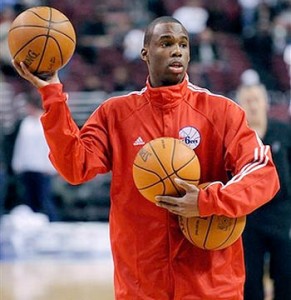 With a single free throw in the final minutes of a blowout loss to the Bulls on Sunday, the Jodie Meeks era officially began in the city of Philadelphia.
The Sixers acquired Meeks in a last-minute deadline deal last week in an effort to make the team better, or so we're told.
"We didn't feel like we were sellers at the trade deadline, so we decided to go out and make a deal to improve our club," said Sixers GM Ed Stefanski. "On the surface, this deal for Meeks looks like it was a wash and a waste of time, but if you look at it through Iggy's glasses, you might be able to see that we have a very, very…very slight edge. If you looks close enough…and squint a little."
Zaki is the Chief Rocka and senior writer for PhillyGameday.com and thinks you should hurry up and follow the site on Twitter and Facebook before it's too late.