Sixers issue formal apology for five-game win streak
Updated:
February 11, 2010
By Zaki, PhillyGameday.com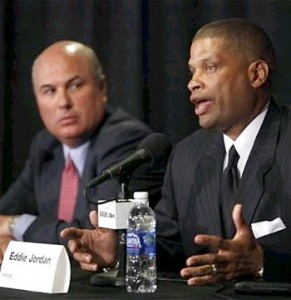 The Sixers released a formal apology letter on Thursday, asking for forgiveness after the team suffered an embarrassing five-game win streak that set them back at least two weeks.
The letter, sent to season ticket holders and various sponsors, referenced a "complete lack of focus" by the entire organization, which led to the team's spiral into one crippling win after another.
"The Philadelphia 76ers organization would like to sincerely apologize to our fanbase and many sponsors for a very disturbing trend that developed over the last two weeks," the apology letter read. "There will be no finger pointing as every member of our organization can bare blame for delaying the rebuilding process. Rest assured that this type of performance will not be tolerated and we can guarantee that this team will do whatever is necessary to earn back your trust. Just to show you that we are committed to ending any lengthy win streaks in the future, we are in the process of selling our entire roster to either Italy or possibly some Chinese basketball team and are prepared to offer you, our valued season ticket holder, a contract for the remainder of the season. In fact, we'll just leave the contract amount blank so you can just write in whatever you want. It doesn't matter. But please, we're begging you. Come run with us, literally. We are so tired of being a mediocre team and we know you are too, so come on out and we'll give you your own uniform and everything. Seriously. Your own uniform, with your name on the back, just like Andre Iguodala used to have before we sent him to Ecuador or some shit a couple minutes ago. See, we're already making moves. So, at least think about that offer. In the mean time, accept our apology and we'll hope to see you at the Wachovia Center, like right now! But if you're busy, we're cool with tomorrow. Either way, just give us a call or send us a tweet so we know you got this. Awesome. Go Sixers!"
Zaki is the Chief Rocka and senior writer for PhillyGameday.com and thinks you should hurry up and follow the site on Twitter and Facebook before it's too late.