Rapper Lil Wayne issued an apology for his role in the Sixers' loss to the Kings on Sunday afternoon after several members of the team attended his concert the night before.
"I accept full responsibility for what went down on Sunday," Lil Wayne, aka Weezy, said during a Tuesday press conference. "I should have been more aware of the affect my rhymes have on the outcome of NBA games. In the future, I promise to be more careful."
Of the Sixers' 36 losses this season, Lil Wayne's silky flow and taunt rhymes have accounted for 35 of them, while the team's poor play could only account for a single loss to the Cavaliers back in November.
The Federal Communications Commission announced Friday that it is now safe for the public to begin viewing Sixers games again, overturning a January 2010 ruling that deemed televised Sixers games to be "too offensive for public consumption."
"We gave the team several chances to clean up broadcasts last year and not subject viewers to so much Andre Iguodala, but we saw no change and eventually had to pull the plug," said FCC chairman Julius Genachowski. "Last month, we re-visited the idea of letting them back on TV and we're happy to announce they are in full compliance with basic standards of entertainment."
While the FCC has given the OK for viewers to tune into the Sixers, they issued a warning to the team that playoff hockey and basic Phillies Spring Training news could force another ban on broadcasts.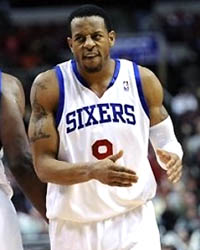 Ever since Allen Iverson left in a trade to Denver in 2006, the Sixers have widely been regarded as 'Andre Iguodala's team,' and with that team's performance over the past few years, it's no wonder that the Illinois native has taken heat as an underachiever.
But, is that fair?
It seems too easy to say that, after seven years, Iguodala just isn't the superstar player we originally thought he could be and that the Sixers would be better off without him.
The issue no one seems to want to address is that Iguodala could very well be one of the most talented players in NBA history, whose elite-level basketball skills are being misused and wasted in Philadelphia.
At 6'6″, Iguodala is the same height as one Michael Jeffrey Jordan, who was, by my estimate, the greatest basketball player ever. Fortunately for Jordan, he didn't have to spend one minute of his career playing for the Sixers, so his career path wasn't choked and beaten before it even began as was the case with Iguodala.
According to many projections, Iguodala could average as many as 90 points per game with 70 rebounds, 45 assists, 30 steals and 40 earth-shattering dunks if he played with any other team in the league. Other, more conservative estimates have him averaging only 70 points per game, but you get the picture.
It may be time to end the Iguodala experiment and allow his talent to flow freely with another NBA team, like the Timberwolves or maybe the Warriors. It is not too late for the Sixers to right the ship and become a respectable franchise and for Iguodala to smash record after record on the way to making some other team trillions upon trillions of dollars by employing the future greatest player in NBA history.
It has become painfully obvious that Iguodala will not work in Philadelphia, but the world deserves to see the forward's true talent, and if that means having to trade him to another team that will automatically become the greatest team in NBA history for years to come, then so be it.
The 76ers have reportedly contacted the Denver Nuggets about a deal for star forward Carmelo Anthony and are willing to kill swingman Andre Iguodala to make it happen.
"My sources tell me that the Sixers are willing to go as far as killing Iguodala if it meant that Carmelo would be a Sixer," ESPN's Mark Stein said on Wednesday. "The Nuggets would also receive actual players from the Sixers and a possible draft pick, but the death of Iguodala seems to be the centerpiece of the deal."
The Nuggets have yet to respond to the snuff-and-trade deal, but Sixers have reportedly contacted the other 28 NBA teams with a similar offer to maim Iguodala in exchange for any player at all.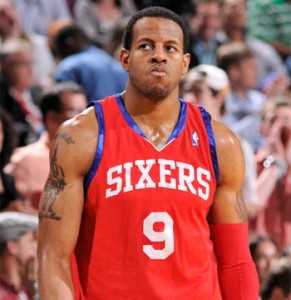 A 109-93 loss to the Orlando Magic on Monday night and the previous 46 losses this season have unofficially eliminated the Philadelphia 76ers from next year's playoffs.
"I'm not sure this is even news," Sixers GM Ed Stefanski said of the team's premature elimination. "News is when you inform someone of something they did not know. For example, in Pennsylvania, any motorist who sights a team of horses coming toward him must pull well off the road, cover his car with a blanket or canvas that blends with the countryside, and let the horses pass. For real.
"But, I think we know by now that next year doesn't look too great for us. Thanks for the obvious tip though. Keep up the good work."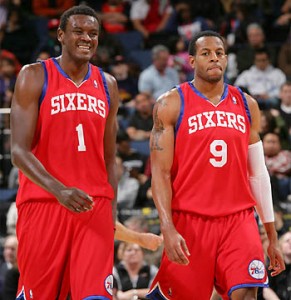 After struggling for much of the season to get anything going with Eddie Jordan's Princeton offense, the Sixers' head coach will switch to the more accommodating, but less popular Strayer University offense.
"Our guys are pretty overwhelmed and obviously can't keep up with the Princeton offense," Jordan said of his team after a 106-95 loss to the Phoenix Suns on Tuesday. "I think going to the Strayer University offense would allow everyone to slow down and work at their own pace."
The Strayer offense typically allows teams to run plays in a supportive, stress-free environment but very few franchises recognize it as a legitimate offensive option.
"We're not really concerned about what others think about what we're doing here," said point guard Lou Williams. "We need an offense and can't afford to keep failing with Princeton. We may not make it to the playoffs with Strayer, but it's an offense we can still be proud of."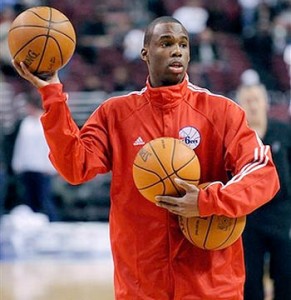 With a single free throw in the final minutes of a blowout loss to the Bulls on Sunday, the Jodie Meeks era officially began in the city of Philadelphia.
The Sixers acquired Meeks in a last-minute deadline deal last week in an effort to make the team better, or so we're told.
"We didn't feel like we were sellers at the trade deadline, so we decided to go out and make a deal to improve our club," said Sixers GM Ed Stefanski. "On the surface, this deal for Meeks looks like it was a wash and a waste of time, but if you look at it through Iggy's glasses, you might be able to see that we have a very, very…very slight edge. If you looks close enough…and squint a little."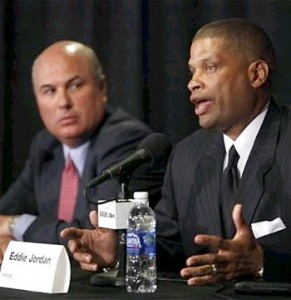 The Sixers released a formal apology letter on Thursday, asking for forgiveness after the team suffered an embarrassing five-game win streak that set them back at least two weeks.
The letter, sent to season ticket holders and various sponsors, referenced a "complete lack of focus" by the entire organization, which led to the team's spiral into one crippling win after another.
"The Philadelphia 76ers organization would like to sincerely apologize to our fanbase and many sponsors for a very disturbing trend that developed over the last two weeks," the apology letter read. "There will be no finger pointing as every member of our organization can bare blame for delaying the rebuilding process. Rest assured that this type of performance will not be tolerated and we can guarantee that this team will do whatever is necessary to earn back your trust. Just to show you that we are committed to ending any lengthy win streaks in the future, we are in the process of selling our entire roster to either Italy or possibly some Chinese basketball team and are prepared to offer you, our valued season ticket holder, a contract for the remainder of the season. In fact, we'll just leave the contract amount blank so you can just write in whatever you want. It doesn't matter. But please, we're begging you. Come run with us, literally. We are so tired of being a mediocre team and we know you are too, so come on out and we'll give you your own uniform and everything. Seriously. Your own uniform, with your name on the back, just like Andre Iguodala used to have before we sent him to Ecuador or some shit a couple minutes ago. See, we're already making moves. So, at least think about that offer. In the mean time, accept our apology and we'll hope to see you at the Wachovia Center, like right now! But if you're busy, we're cool with tomorrow. Either way, just give us a call or send us a tweet so we know you got this. Awesome. Go Sixers!"
According to a team source, the Sixers may be working out a deal with the Houston Rockets that could finally rid the team of Andre Iguodala's talent and still take on Tracy McGrady's bloated contract at the same time.
Sixers GM Ed Stefanski would not confirm that a deal is forthcoming, but he did classify such a trade scenario as a "win-win" for the city of Philadelphia.
"Iggy's talent is a burden to any team trying to lose games and rebuild, which we've obviously been trying to do, unsuccessfully, for some time now," Stefanski said on Friday. "If we could dump him on the Rockets and get our hands on that fat, expiring contract of McGrady's, this team could really do some things."
The potential trade would give the Sixers the flexibility they need to completely suck ass this year and compete for a decent draft pick and have the necessary cap room at the end of the year to sign free agents.
Andre Iguodala jumped into the LeBron James playing football discussion on Friday by saying that he's "pretty confident" he could at least do a better job out there than Michael Vick.
Standing at 6'6″, Iguodala has the height necessary to see over lineman, and the coke-bottle vision to see what everyone else is thinking, but he may lack the arm strength and accuracy to be an effective NFL quarterback.
"If I committed myself to the game of football, I think I would be pretty good at it," Iguodala said on Friday. "That goes for other sports too, like baseball, MMA and maybe even basketball."