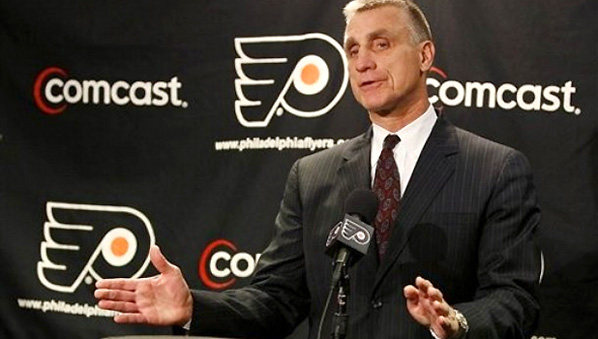 Flyers general manager Paul Holmgren announced Friday that he is extremely hungover and while he can't remember a thing that happened yesterday, he is in the process of trying to piece everything together if you will just bare with him for a minute.
Holmgren said he vaguely remembers something about a trade and hearing people curse, but he wasn't sure if that was part of a dream or if that actually happened.
"The last thing I really remember was taking a shot from these two exotic-looking women" said Holmgren, who was then roofied into trading Jeff Carter to Columbus and Mike Richards to Los Angeles while signing Ilya Bryzgalov to a nine-year $51 million deal. "Next thing I know, I'm waking up on South Street this morning with 7,519 angry text messages."
Holmgren said he would try to reach out to his star captain Mike Richards to find out more about what happened last night and also plans to talk with Jeff Carter about his thoughts on adding Ilya Bryzgalov to the team.
The Flyers acquired the negotiating rights to Coyotes goalie Ilya Bryzgalov on Tuesday and, according to league sources, have not stopped talking about how excited they are to finally meet a real life NHL goalie.
Flyers general manager Paul Holmgren spoke Thursday about the trade, the impact it could have on next season and how he needed to take pictures because none of his friends are going to believe this.
"I've heard other teams talking about how they talk to NHL goalies all the time like it's nothing," said Holmgren, who will meet a goaltender for the first time in over 36 years with the Flyers organization. "But this will be my first time. I just hope I play it cool. I mean, what do I even say to the guy? Like, he's a goalie and I'm just some guy. What if he doesn't like me? What if he does and then we become best friends? Could you imagine!"
Holmgren also mentioned that he plans on reaching out to Brian Boucher to see if he had any interest in coming to meet a professional NHL goalie.
The National Hockey League conducted a recent poll that found that while the overall popularity of hockey in the U.S. had increased over the past few months, interest in the sport had dropped significantly among Philadelphia Flyers players.
According to the poll, only 7% of Flyers players currently list hockey as their favorite sport, down from 89% when the players were polled at the start of the season.
"What we're seeing is a shift in players' interests from hockey to wanting to sleep all day," said an NHL spokesperson. "Players are also starting to show more interest in golf and Twitter over hockey in recent weeks, according to the poll."
Though Flyers players have shown less interest in hockey in recent months, the polls shows that 78% of players say they would show more interest now that the Flyers are in the playoffs.
"It's the 'bandwagon players' effect," the spokesperson added.
Exhausted from the recent workload and an embarrassing four-game losing streak, the Flyers decided to put in for some vacation time on Tuesday and will reschedule all of their upcoming games for whenever they get back.
"Sometimes the best thing thing to do in the middle of a tight playoff race is to just get away and not think about hockey for a while," said head coach Peter Laviolette. "Plus, those 96.2 hours of accrued vacation time aren't going to use themselves."
NHL commissioner Gary Bettman said he would approve the Flyers vacation request as soon as the team finds someone to cover their shift.
The Flyers expressed a great deal of relief on Wednesday when the team was finally able to locate and waive Russian winger Nik Zherdev, who went missing on Friday.
"We are just so glad to know he's OK and no longer a member of this team," said head coach Peter Laviolette. "We found him wandering the streets of New York, which is generally frown upon while a game is going on. Since we want to encourage our players to attend games, we were forced to waive Nik."
As a result of Zherdev's disappearance, the Flyers have begun handing out game schedule magnets to each player in addition to hourly reminders that they get paid to show up and play hockey for a living.
The Flyers acquired Kris Versteeg — one of the best players on the market at this year's deadline — from the Toronto Maple Leafs because the team was bored on Monday and really needed something to do.
"Yeah, that definitely killed a few hours for us," Flyers general manager Paul Holmgren said of the trade. "I just started calling GMs and was like 'Dude, help me out, I'm bored. Trade?' It's not like we really needed to trade or anything but, you know, you can only watch so much TV."
Holmgren said that while he was pleased to find out that Versteeg was actually a decent player, the Flyers GM is still pretty bored and might try to win the Stanley Cup if he doesn't find anything else to do soon.
"Could be fun," Holmgren added.
The Federal Communications Commission announced Friday that it is now safe for the public to begin viewing Sixers games again, overturning a January 2010 ruling that deemed televised Sixers games to be "too offensive for public consumption."
"We gave the team several chances to clean up broadcasts last year and not subject viewers to so much Andre Iguodala, but we saw no change and eventually had to pull the plug," said FCC chairman Julius Genachowski. "Last month, we re-visited the idea of letting them back on TV and we're happy to announce they are in full compliance with basic standards of entertainment."
While the FCC has given the OK for viewers to tune into the Sixers, they issued a warning to the team that playoff hockey and basic Phillies Spring Training news could force another ban on broadcasts.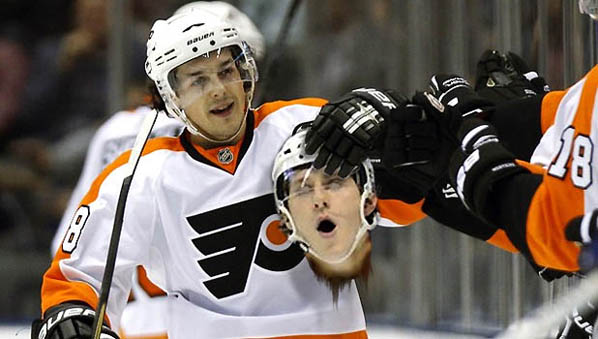 Danny Briere used his recent All-Star snub as motivation to have one of his best games of the season on Tuesday against Buffalo, tallying one goal and three assists while tearing Sabres forward Luke Adams' head clean from his shoulders.
"I just went into the game like any other," said Briere, who was responsible for four of the Flyers' five goals and the decapitation of an opposing player. "It wasn't until I scored the goal that I knew I had something extra in the tank. Then I ripped that guy's head off and realized this All-Star stuff was kinda getting to me a little. I'm gonna go ahead and apologize for doing that, by the way. My bad."
Briere, who is currently tied for sixth in the NHL with 22 goals, could miss the remainder of the season after being charged with manslaughter on Wednesday.
After being released for the fifth time in his career, Michael Leighton reported that an NHL team has one more time to place him on waivers and that "[he's] not even playin'."
"Oh man, I wish a team would try to put me on waivers again," Leighton said to reporters on Wednesday. "Ooooo, you just don't know. Go ahead, waive me again. Do it again! Waive! Me! Again! I'll take this stick and…Oooooo…you don't even wanna know."
As of press time, Leighton has yet to be placed on waivers by another NHL team, but according one source, the goalie is seriously waiting for a team to pop off.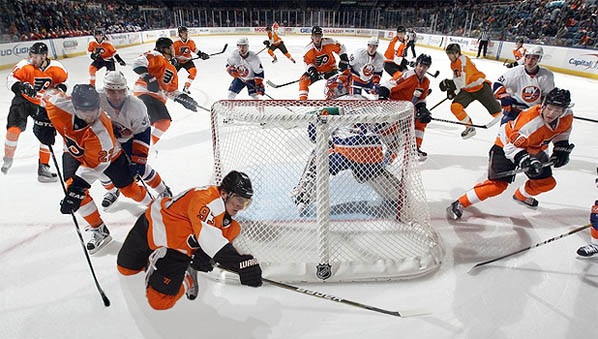 The Flyers put an end to their power play drought on Sunday by taking advantage of a 20-on-4 situation during the third period.
Andreas Nodl tied the game up with his seventh goal of the season after fighting off teammates Matt Carle, Danny Briere and Brian Bouche for a wide open shot.
"Having that extra 15th man out there was crucial for us," said head coach Peter Laviolette. "I thought we had let another power play opportunity slip by but those 20 guys out there worked together to find the back of the net."