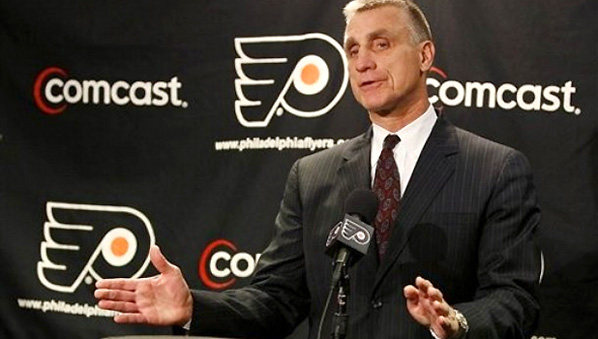 Flyers general manager Paul Holmgren announced Friday that he is extremely hungover and while he can't remember a thing that happened yesterday, he is in the process of trying to piece everything together if you will just bare with him for a minute.
Holmgren said he vaguely remembers something about a trade and hearing people curse, but he wasn't sure if that was part of a dream or if that actually happened.
"The last thing I really remember was taking a shot from these two exotic-looking women" said Holmgren, who was then roofied into trading Jeff Carter to Columbus and Mike Richards to Los Angeles while signing Ilya Bryzgalov to a nine-year $51 million deal. "Next thing I know, I'm waking up on South Street this morning with 7,519 angry text messages."
Holmgren said he would try to reach out to his star captain Mike Richards to find out more about what happened last night and also plans to talk with Jeff Carter about his thoughts on adding Ilya Bryzgalov to the team.
The Flyers acquired the negotiating rights to Coyotes goalie Ilya Bryzgalov on Tuesday and, according to league sources, have not stopped talking about how excited they are to finally meet a real life NHL goalie.
Flyers general manager Paul Holmgren spoke Thursday about the trade, the impact it could have on next season and how he needed to take pictures because none of his friends are going to believe this.
"I've heard other teams talking about how they talk to NHL goalies all the time like it's nothing," said Holmgren, who will meet a goaltender for the first time in over 36 years with the Flyers organization. "But this will be my first time. I just hope I play it cool. I mean, what do I even say to the guy? Like, he's a goalie and I'm just some guy. What if he doesn't like me? What if he does and then we become best friends? Could you imagine!"
Holmgren also mentioned that he plans on reaching out to Brian Boucher to see if he had any interest in coming to meet a professional NHL goalie.