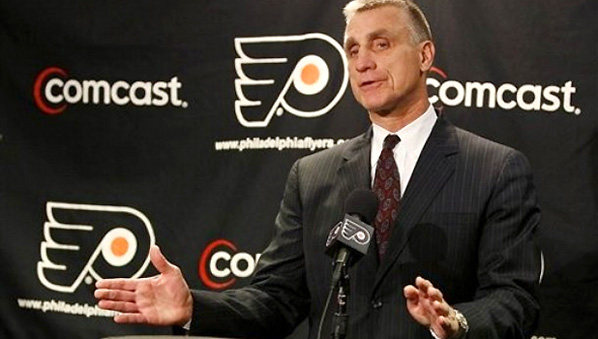 Flyers general manager Paul Holmgren announced Friday that he is extremely hungover and while he can't remember a thing that happened yesterday, he is in the process of trying to piece everything together if you will just bare with him for a minute.
Holmgren said he vaguely remembers something about a trade and hearing people curse, but he wasn't sure if that was part of a dream or if that actually happened.
"The last thing I really remember was taking a shot from these two exotic-looking women" said Holmgren, who was then roofied into trading Jeff Carter to Columbus and Mike Richards to Los Angeles while signing Ilya Bryzgalov to a nine-year $51 million deal. "Next thing I know, I'm waking up on South Street this morning with 7,519 angry text messages."
Holmgren said he would try to reach out to his star captain Mike Richards to find out more about what happened last night and also plans to talk with Jeff Carter about his thoughts on adding Ilya Bryzgalov to the team.
Following a strong debut against the Penguins on Thursday, rookie goaltender Sergei Bobrovsky continued to impress Flyers coaches and players with his ability to remember and correctly pronounce his last name, something the rest of his teammates continue to struggle with.
"Yeah, what's-his-face was awesome," Flyers captain Mike Richards said of Bobrovsky. "Not gonna lie…I totally forgot his name again. It's something like 'Botox',  but I feel like there's a 'ski' or 'sky' in there somewhere. Whatever it is, he says it like a damn pro."
While the Flyers are plenty high on Bobrovsky, the team did express concern over the Russian's ability to pronounce words like 'Philadelphia' and 'hockey'.
Captain Mike Richards took verbal shots at members of the  Philadelphia media for their steadfast coverage of the Flyers, who have now fallen to the bottom of the Atlantic Division standings after two straight losses.
"I just can't understand it. Of all the things you guys can do with your time, you choose to write about this team?" Richards said of the reporters that try and make the Flyers seem as interesting as possible so people will continue to watch games. "There are like half a billion other things you can write about. What about the Pants on the Ground guy? He's gotta be more entertaining than we are, right?"
Richards and the Flyers will try desperately to remain relevant on the Philly sports landscape as they take on the Columbus Blue Jackets at home on Tuesday.