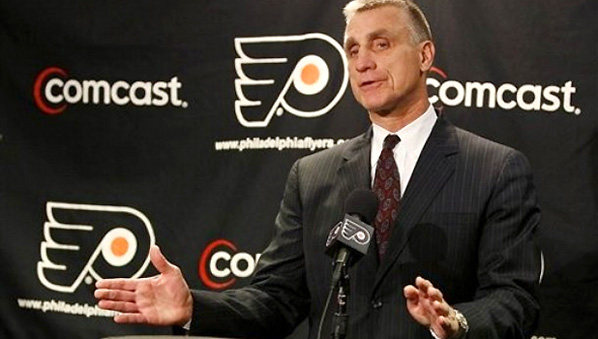 Flyers general manager Paul Holmgren announced Friday that he is extremely hungover and while he can't remember a thing that happened yesterday, he is in the process of trying to piece everything together if you will just bare with him for a minute.
Holmgren said he vaguely remembers something about a trade and hearing people curse, but he wasn't sure if that was part of a dream or if that actually happened.
"The last thing I really remember was taking a shot from these two exotic-looking women" said Holmgren, who was then roofied into trading Jeff Carter to Columbus and Mike Richards to Los Angeles while signing Ilya Bryzgalov to a nine-year $51 million deal. "Next thing I know, I'm waking up on South Street this morning with 7,519 angry text messages."
Holmgren said he would try to reach out to his star captain Mike Richards to find out more about what happened last night and also plans to talk with Jeff Carter about his thoughts on adding Ilya Bryzgalov to the team.
Moments after signing an 11-year contract extension with the Flyers, Jeff Carter said he was "optimistic" that the NHL wouldn't be bankrupt and long forgotten when his contract expires in 2022.
"There's risk involved in signing such a long-term deal," said Carter on Monday. "You have to weigh things like 'Can I support my family if the NHL has to start paying me in food stamps?' or 'What if I show up to work one day and they're turning the place into a Walgreens?' You just roll the dice and hope for the best."
The Flyers also agreed to a contract extension with Claude Giroux, who had a similar faith that the NHL would still exist when his deal expires in three years.
A record-shattering 87 disallowed goals by the Flyers prevented an 8-1 win over the Hurricanes from really getting out of hand on Thursday.
"The 'Canes caught quite a few breaks out there," said Jeff Carter, who had to settle for his second career hat trick after 51 of his goals were erased throughout the contest. "We had, what, eight goals actually count for us? It seemed like every time we had the chance to really really step on their necks, we couldn't capitalize."
The Hurricanes also had a goal disallowed late in the third period, missing a golden opportunity to cut the lead to six.