Just hours after announcing that team captain Chris Pronger would miss the remainder of the season with a concussion, the Flyers announced that recently acquired superstar Alex Ovechkin sustained a severe concussion and would also miss the rest of the season after being struck by a bus while watching television in his home on Thursday.
Ovechkin and Pronger join Claude Giroux and 16 recently acquired superstars, including Jarome Iginla, Patrick Kane and Daniel Sedin, on the list of Flyers either lost for the season or out indefinitely with concussions.
"We're not having the best of luck keeping our star guys healthy right now," said Flyers general manager Paul Holmgren. "But what happened to Alex…it's just one of those freak things. Nothing you can do about a bus coming into your house like that. It happens."
According to team sources, the Flyers rejected a deal late Thursday to acquire Lightning forward Steven Stamkos for fear of any further injuries and advised current Flyers players against standing out in any way to avoid the IR and possibly death.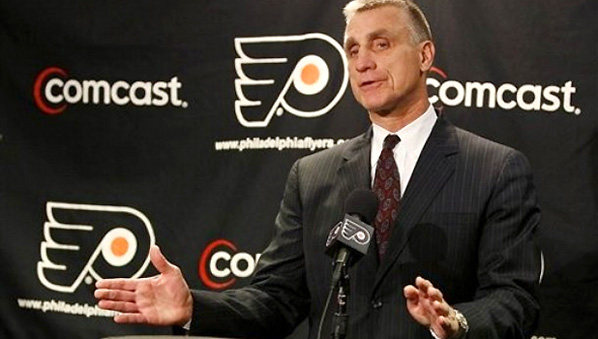 Flyers general manager Paul Holmgren announced Friday that he is extremely hungover and while he can't remember a thing that happened yesterday, he is in the process of trying to piece everything together if you will just bare with him for a minute.
Holmgren said he vaguely remembers something about a trade and hearing people curse, but he wasn't sure if that was part of a dream or if that actually happened.
"The last thing I really remember was taking a shot from these two exotic-looking women" said Holmgren, who was then roofied into trading Jeff Carter to Columbus and Mike Richards to Los Angeles while signing Ilya Bryzgalov to a nine-year $51 million deal. "Next thing I know, I'm waking up on South Street this morning with 7,519 angry text messages."
Holmgren said he would try to reach out to his star captain Mike Richards to find out more about what happened last night and also plans to talk with Jeff Carter about his thoughts on adding Ilya Bryzgalov to the team.
The Flyers acquired the negotiating rights to Coyotes goalie Ilya Bryzgalov on Tuesday and, according to league sources, have not stopped talking about how excited they are to finally meet a real life NHL goalie.
Flyers general manager Paul Holmgren spoke Thursday about the trade, the impact it could have on next season and how he needed to take pictures because none of his friends are going to believe this.
"I've heard other teams talking about how they talk to NHL goalies all the time like it's nothing," said Holmgren, who will meet a goaltender for the first time in over 36 years with the Flyers organization. "But this will be my first time. I just hope I play it cool. I mean, what do I even say to the guy? Like, he's a goalie and I'm just some guy. What if he doesn't like me? What if he does and then we become best friends? Could you imagine!"
Holmgren also mentioned that he plans on reaching out to Brian Boucher to see if he had any interest in coming to meet a professional NHL goalie.
The Flyers acquired Kris Versteeg — one of the best players on the market at this year's deadline — from the Toronto Maple Leafs because the team was bored on Monday and really needed something to do.
"Yeah, that definitely killed a few hours for us," Flyers general manager Paul Holmgren said of the trade. "I just started calling GMs and was like 'Dude, help me out, I'm bored. Trade?' It's not like we really needed to trade or anything but, you know, you can only watch so much TV."
Holmgren said that while he was pleased to find out that Versteeg was actually a decent player, the Flyers GM is still pretty bored and might try to win the Stanley Cup if he doesn't find anything else to do soon.
"Could be fun," Holmgren added.
The Flyers announced on Wednesday that they have come to an agreement with free-agent loose cannon/goaltender Ray Emery on a one year, $1.5 million contract.
Flyers GM Paul Holmgren also disclosed their agressive new PR plan that the NHL is employing for the upcoming season.
"We recognize that part of the reason the NFL has been so successful is the way they keep their sport in the news cycle," Holmgren said. "Part of how they do that is by having their players get into these 'run-ins' with police and other law enforement agencies. So we figured, if we wanted to grow our sport like they have, the obvious choice would be to follow what they have trailblazed."
Emery, who spent the 2008-09 season on a sightseeing tour of the beautiful Russian countryside, last played in the NHL for the Ottawa Senators in 2007-08. Emery can not formally sign the contract until July 1st.
"I've always admired guys like Chris Henry, Adam 'Pacman' Jones and those guys," Emery said. "They always seem to find their way out of it and back onto the field no matter how many times they get arrested. I can only hope to achieve some of their success."
Holmgren did not say whether or not the Flyers had come to any kind of agreement with the Philadelphia Police Department about this move, or if some kind direct debit account would be set up to help the burden of Emery's potential bail payments.