The National Hockey League conducted a recent poll that found that while the overall popularity of hockey in the U.S. had increased over the past few months, interest in the sport had dropped significantly among Philadelphia Flyers players.
According to the poll, only 7% of Flyers players currently list hockey as their favorite sport, down from 89% when the players were polled at the start of the season.
"What we're seeing is a shift in players' interests from hockey to wanting to sleep all day," said an NHL spokesperson. "Players are also starting to show more interest in golf and Twitter over hockey in recent weeks, according to the poll."
Though Flyers players have shown less interest in hockey in recent months, the polls shows that 78% of players say they would show more interest now that the Flyers are in the playoffs.
"It's the 'bandwagon players' effect," the spokesperson added.
Exhausted from the recent workload and an embarrassing four-game losing streak, the Flyers decided to put in for some vacation time on Tuesday and will reschedule all of their upcoming games for whenever they get back.
"Sometimes the best thing thing to do in the middle of a tight playoff race is to just get away and not think about hockey for a while," said head coach Peter Laviolette. "Plus, those 96.2 hours of accrued vacation time aren't going to use themselves."
NHL commissioner Gary Bettman said he would approve the Flyers vacation request as soon as the team finds someone to cover their shift.
The Flyers expressed a great deal of relief on Wednesday when the team was finally able to locate and waive Russian winger Nik Zherdev, who went missing on Friday.
"We are just so glad to know he's OK and no longer a member of this team," said head coach Peter Laviolette. "We found him wandering the streets of New York, which is generally frown upon while a game is going on. Since we want to encourage our players to attend games, we were forced to waive Nik."
As a result of Zherdev's disappearance, the Flyers have begun handing out game schedule magnets to each player in addition to hourly reminders that they get paid to show up and play hockey for a living.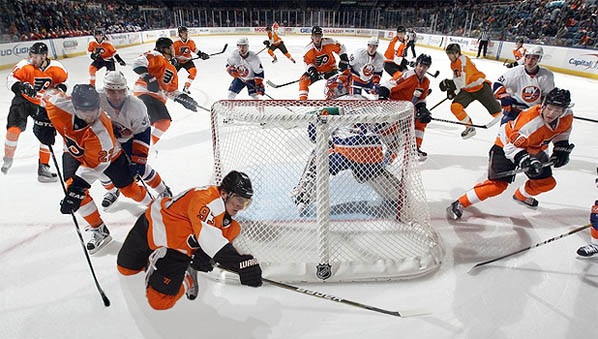 The Flyers put an end to their power play drought on Sunday by taking advantage of a 20-on-4 situation during the third period.
Andreas Nodl tied the game up with his seventh goal of the season after fighting off teammates Matt Carle, Danny Briere and Brian Bouche for a wide open shot.
"Having that extra 15th man out there was crucial for us," said head coach Peter Laviolette. "I thought we had let another power play opportunity slip by but those 20 guys out there worked together to find the back of the net."
Following a strong debut against the Penguins on Thursday, rookie goaltender Sergei Bobrovsky continued to impress Flyers coaches and players with his ability to remember and correctly pronounce his last name, something the rest of his teammates continue to struggle with.
"Yeah, what's-his-face was awesome," Flyers captain Mike Richards said of Bobrovsky. "Not gonna lie…I totally forgot his name again. It's something like 'Botox',  but I feel like there's a 'ski' or 'sky' in there somewhere. Whatever it is, he says it like a damn pro."
While the Flyers are plenty high on Bobrovsky, the team did express concern over the Russian's ability to pronounce words like 'Philadelphia' and 'hockey'.
Making his first appearance for his new team last night, former Flyer Simon Gagne scored 3 points but Matt Walker, the man who came to Philadelphia in exchange, was cheaper on the ice all night long.
"We felt like he was especially thrifty in his own end tonight," commented head coach Peter Laviolette. "His ability to cost less than his predecessor was really impressive."
Some Flyers fans wondering how hockey was back already lauded Walker's economic play and ability to take regular shifts without costing an arm and a leg. Walker is expected to begin the season in Adirondack with the Phantoms, but team representatives say they are excited to have the recession-friendly defenseman on their blue line in 2010-11.