What a complete waste of a year of my life. I told everyone the day that this douchebag Eddie Jordan got hired that this would be a complete disaster, but did anybody listen to me? Hell no.
I knew this guy was no good from the door. You can't teach an old dog new tricks, and this guy's best trick was turning good teams into garbage, just like he did with the Sixers.
My Sixers were on the verge of becoming a solid NBA team before this guy came to town and ruined everything that Ed Stefanski put together the past few years. There's no way this team should lose 55 games with Andre Iguodala, Elton Brand and Thaddeus Young on our squad. No freakin' way. The blame falls squarely on that nutcase Eddie Jordan. If we had anyone else coaching this team, we'd be in the playoffs right now, guaranteed.
I know Larry Brown said he didn't want to leave the Bobcats, but how awesome would it be to have him back in Philly? I think Larry could guide the team to 50 wins, easy. As much as I want him back in town, I'll take anybody other than that puss coach and his Princeton offense that we had to watch on the court this year. I kid you not: I could win more than 27 games if I was the coach. I have more basketball knowledge in my thumb than this guy had in his oversized head.
I'm glad he's finally gone so the Sixers can finally get back to winning games. We have a solid team to build around and the draft is gonna be awesome this year since we finally have a good first-round pick, so I'm really looking forward to next year when we put it all together.
Let that doorknob hit you right in the ass on the way out, Eddie.
Sixers head coach Eddie Jordan responded to the reports that he will be fired at the end of the season by saying he "never claimed to know the first thing about basketball."
"Everyone always just assumed that since I was a tall black guy, that I knew how to play basketball," Jordan said on Wednesday. "Once I got older, people just assumed I was some wise, old basketball coach. One thing led to another and here I am about to get fired from a job I have no idea how I got in the first place."
Several NBA teams have already expressed interest in hiring Jordan as a head coach should he be fired from the Sixers, though Jordan will likely return to his career as a below-average, yet sought-after tax attorney.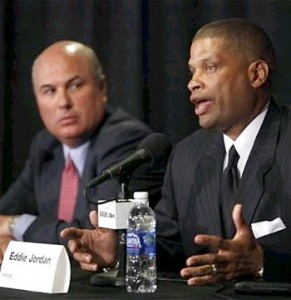 The Sixers released a formal apology letter on Thursday, asking for forgiveness after the team suffered an embarrassing five-game win streak that set them back at least two weeks.
The letter, sent to season ticket holders and various sponsors, referenced a "complete lack of focus" by the entire organization, which led to the team's spiral into one crippling win after another.
"The Philadelphia 76ers organization would like to sincerely apologize to our fanbase and many sponsors for a very disturbing trend that developed over the last two weeks," the apology letter read. "There will be no finger pointing as every member of our organization can bare blame for delaying the rebuilding process. Rest assured that this type of performance will not be tolerated and we can guarantee that this team will do whatever is necessary to earn back your trust. Just to show you that we are committed to ending any lengthy win streaks in the future, we are in the process of selling our entire roster to either Italy or possibly some Chinese basketball team and are prepared to offer you, our valued season ticket holder, a contract for the remainder of the season. In fact, we'll just leave the contract amount blank so you can just write in whatever you want. It doesn't matter. But please, we're begging you. Come run with us, literally. We are so tired of being a mediocre team and we know you are too, so come on out and we'll give you your own uniform and everything. Seriously. Your own uniform, with your name on the back, just like Andre Iguodala used to have before we sent him to Ecuador or some shit a couple minutes ago. See, we're already making moves. So, at least think about that offer. In the mean time, accept our apology and we'll hope to see you at the Wachovia Center, like right now! But if you're busy, we're cool with tomorrow. Either way, just give us a call or send us a tweet so we know you got this. Awesome. Go Sixers!"
Good job by whoever had the foresight to change Washington's name from the Bullets to the Wizards. Otherwise, bloggers and columnists would have so much fuel, we'd probably explode.
In a matter of two months, Gilbert Arenas has gone from having his fiance allegedly stolen away by Shaq to now drawing a gun on his teammate, Javaris Crittenton, in the Wizards locker room.
The report about the gun incident says that 'Agent Zero' has had "unloaded firearms" stored in a container in his locker. Apparently, the Washington Wizards locker room situation is about as dangerous as a 3 AM walk through Camden, so it's necessary to keep multiple weapons nearby just in case something pops off. Crittenton apparently shared Hibachi's locker room safety concerns as he also had a gun stashed and drew it on Arenas during the altercation.
Who knew something like this was even possible: Teammates pulling guns on each other over an alleged gambling debt. Crittenton hasn't appeared in a game yet this season, so I would imagine his days as a Wizard are just about done with, but it wouldn't surprise me to see the Wiz drop Arenas, who seems to have a lot on his plate all of the sudden.
Maybe a reunion with Eddie Jordan is in order. We could also add Tracy McGrady in the process and send five guards out on the floor that miss 60% of their shots and want the ball in their hands at all times.
I love basketball.
A source has informed PhillyGameday.com that the Sixers have given serious consideration to winning basketball games in the near future.
The Sixers dropped their fifth straight game on Friday against the Hawks and the addition of more wins would almost certainly help the struggling franchise.
"This is really the first time I'm hearing about this," head coach Eddie Jordan said when interviewed on Sunday. "I'm sure someone would have discussed this with me by now if we were going in that direction, so I don't know where you're getting your information from."
The 76ers put an end to their coaching search on Friday by passing on the funneh tawkin' Avery Johnson to hire Eddie Jordan, close buddy of Sixers GM 'Special' Ed Stefanski.
In just over five seasons with the Wizards, Jordan led his team to a very Sixers-like .467 winning-percentage, but with far better talent than the Sixers have had recently.
"I'm looking forward to a new start here in Philadelphia," said Jordan on Saturday. "I know how pumped everyone is about the coming season, so I'll do my best to meet their sky-high expectations."
Interim head coach Tony DiLeo will not return to coach the Sixers next season and will instead return to his former position of senior vice president/assistant general manager.
Though DiLeo gave his two-week notice on Monday, everyone in the Sixers organization knows that he's probably just going to phone it in and surf the net all day for the next two weeks.
"I made the decision not to come back because I wanted to spend more time with my family," said DiLeo on Monday. "That assistant GM title is just front office speak for 'chillax and watch basketball' and will allow me the free time I need."
The Sixers have already begun their post-Dileo-era head coach search.  Eddie Jordan, Doug Collins and — hopefully, based on potential for satire — Avery Johnson have been named as possible replacements in the early going.