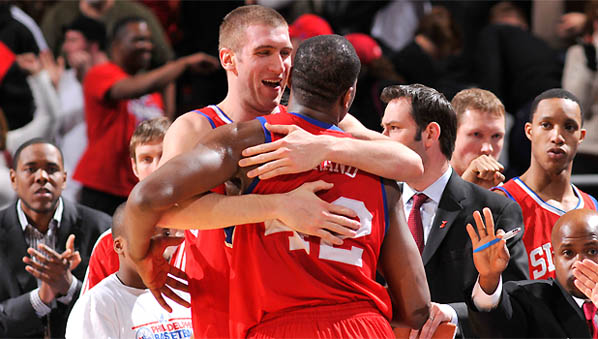 The Sixers capped off an improbable dream season by clinching an epic Game 4 win against the Miami Heat during the first round of the NBA playoffs.
"We did it! We shook up the world! We shook up the world!" said a champagne-covered Andre Iguodala after the Sixers were eliminated from the playoffs on Wednesday. "You grow up watching teams win playoff games and you hope that one day that could be you out there hoisting the game ball in front of your home crowd. No one thought we would even get this far, but here we are, baby! We shook up the world!"
Sixers head coach Doug Collins said Friday that while the team exceeded any and all expectations during the dream 2010-11 season, he fully expects the young core group of players to capture an Eastern Conference semifinal win next season.
"I know this is setting the bar pretty high, but I think we're ready to take the next step and become a slightly above average team next year," Collins said.
Elton Brand has suffered some pretty serious injuries in the past couple years, an achilles tendon rupture in 2007-08 and a dislocated shoulder requiring surgery in 2008-09. This season, Brand is not taking any chances, and is utilizing every precaution to protect his body.
"If people make fun of me, I don't care," said Brand. "I am simply taking care of my body. It just happens to be as fragile as a 94-year-old woman with osteoporosis so I need to be extra cautious."
Brand says he will protect his body by any means necessary. If he has to wear a football helmet with full shoulder pads or completely wrap himself in bubble wrap, so be it.
"Hey, watch it! You gotta be careful around me!" screamed Brand at Jason Kapono, who let a missed three pointer after practice slowly roll past Brand. "You can't recklessly miss shots and have the ball go screaming by me like that. It's dangerous! Hey, can anyone untie my shoes for me? I don't want to sever any fingers like last time. That was embarrassing."
Elton Brand and Andre Iguodala were at the Wachovia center on Wednesday to take promotional photos with the Sixers new retro uniforms as a part of a massive rebranding campaign.
The change was well received by fans and members of the Sixers organization, especially Iguodala who was fired up about being able to wear the same uniform as Julius Erving on a full-time basis.
"Hey Elton, look what I can do," said a giddy Iguodala as he dunked a basketball in the Sixers new retro jersey and matching boxer shorts. "Did you see that? I bet I looked just like Dr. J, didn't I?"
Though the Sixers plan to unveil the new uniforms to the public in the coming days, the new roster is still on backorder and may not arrive for the next decade or so.
With Elton Brand lost for the season and Thaddeus Young down for at least the next two weeks,Tony DiLeo will look for someone to shoulder the offensive load in their absence.
Dalembert is having his worst offensive season since his rookie campaign, but he may need to close out the season by improving on his 5.3 shots per game and 6.3 ppg to take approximately 31 or so shots each game and average about 57 points in order for the Sixers to have a realistic shot in the upcoming playoffs.
"Somebody has to step in and take over the scoring load that Thad has taken on lately," said Dalembert. "I just hope it's not me…just saying the word 'offense' gives me jelly legs and dimes give me hives. In fact, if I make it to the end of the season, that'll make it two months without a breakout."
Sixers forward Elton Brand will shut it down for the remainder of the year due to a pre-existing condition preventing him from being able to run-and-gun with the rest of the team. Sixers GM Ed Stefanski knew of the condition prior to signing the two-time NBA All-Star to a five-year $82 million contract back in July, but went ahead with bringing him in anyway.
"We saw how the life got sucked from the Suns last year when they acquired another sufferer from badfitforteamitis in Shaquille O'Neal, but we were determined to make it work with Brand anyway," Stefanski said. "I've always found that if something doesn't fit…cram it in there until it does. If it still doesn't fit, just blame it on someone else."
The 76ers overcame the return of their star forward Elton Brand to down the Knicks 116-110 on Saturday. The Sixers have won eight of their last nine games including seven in a row while Brand rehabbed his separated right shoulder. In Brand's absence, the Sixers seemed to find their rhythm and head coach Tony DiLeo developed a game plan will keep Brand on the bench, even after their prized offseason acquisition is fully recovered.
"We're realizing that our best use of Brand is actually to not use him at all…or sparingly at least," DiLeo said. "He's making something like $50 trillion dollars this year, but if our team is doing better without him, don't fix what ain't broke, you know what I mean?"
The Sixers will travel to New Orleans on Monday to face Chris Paul and the Hornets. According to DiLeo, Brand will likely either watch the game from the locker room or stay behind in Philadelphia and watch it at a local bar just to make sure he doesn't interfere with the Sixers' game plan.
"Whatever I have to do to help the team at this point is what I'll do," Brand said. "If that means sitting at home eating Cheetos and watching American Idol, then I'll just have to live with that."