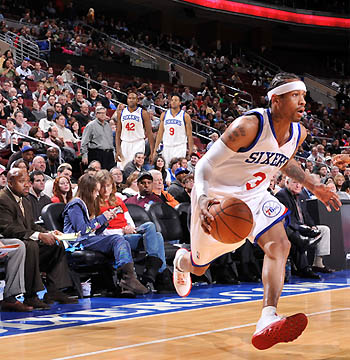 The Sixers have informed a couple nearby fans that they are probably gonna head out in a couple minutes to beat the traffic.
"There's not really much going on in the game right now, so we might as well head out," said Thaddeus Young to a few of his teammates early in the third quarter. "These seats were awesome and we should try to come back to catch another game, but it's getting pretty late."
The Sixers will take on the Lakers at home on on Friday night but they may not be able to stay for the whole game since they have to get up super early for work the next day.
Satisfied with their seemingly comfortable Game 6 win on paper, the Sixers elected to watch the actual 114-89 flogging from their respective homes and hotel rooms.
Haphazard elbows from Dwight Howard in the previous game knocked himself (suspension) and Courtney Lee (fractured sinus) from being able to participate in last night's game. The absence of two of Orlando's starters gave the Sixers a commanding edge in Game 6 which they managed to turn into a debilitating handicap.
"No [Dwight] Howard, no [Courtney] Lee…and we get baked worse than we have in any game this series," said Tony DiLeo. "I guess we actually were better off letting Howard camp out in the lane."
With Elton Brand lost for the season and Thaddeus Young down for at least the next two weeks,Tony DiLeo will look for someone to shoulder the offensive load in their absence.
Dalembert is having his worst offensive season since his rookie campaign, but he may need to close out the season by improving on his 5.3 shots per game and 6.3 ppg to take approximately 31 or so shots each game and average about 57 points in order for the Sixers to have a realistic shot in the upcoming playoffs.
"Somebody has to step in and take over the scoring load that Thad has taken on lately," said Dalembert. "I just hope it's not me…just saying the word 'offense' gives me jelly legs and dimes give me hives. In fact, if I make it to the end of the season, that'll make it two months without a breakout."
Thaddeus Young led all Sixers with a mammoth 7 total rebounds as the Sixers fell to the Bobcats in a woeful Eastern conference matchup between two teams that barely have any business contending for the playoffs.
The Sixers appeared to once again shove rebounding down the list of game priorities just behind standing around watching the other team score at will. They were outrebounded 41 to 23 in the contest and have been outrebounded by 10 or more in four of their last 21 games.
"We haven't paid much attention to grabbing boards lately," said Thaddeus Young, who has topped double-digits in rebounds only three times this season. "We figure in the Eastern conference, we can get by until at least the semifinals without pulling down a single rebound anyway, so I'm sure we'll be fine."