After a long history of callous behavior toward Cole Hamels, Phillies fans are now reportedly showing concern for the starting pitcher's well-being after he left Tuesday's start against the Marlins in the eighth inning with tightness in the middle of his back.
While Hamels maintains that he is healthy and will make his next start, Phillies sources indicate that the team continues to receive well-wishes and endless requests from fans to see if there is anything they can do for the 2008 World Series MVP.
The sudden outpouring of love for Hamels comes after years of torment by fans, including an incident in 2009 where the pitcher suffered compound fractures in both legs, but was booed off the field after giving up six runs in four innings of work.
Experts have speculated that the recent concern is due to Hamels' team-leading 2.49 ERA and league-leading nine wins, but many fans say this is not the case.
"Two years ago, Cole could've won 30 games and I wouldn't care if he was run over by a bus," said long-time Phillies fan Rob Cohen. "Now it's different. I'm not gonna say I love the guy or anything, but I definitely don't want him to get run over by a bus anymore. That's something, at least."
Major League Baseball took a gigantic step toward improving the quality of offense during Phillies games by allowing pitchers to serve as designated hitters for position players.
With the Phillies' run production the worst it has been in 20 years, the new rule would give the team a significant boost offensively as manager Charlie Manuel will now be able to let a pitcher like Cole Hamels bat for Ryan Howard during games.
"I really like the rule and think it could really get our offense going," Manuel said. "Even if it's a slight upgrade, like plugging Danys [Baez] in the leadoff spot for Jimmy [Rollins], I think we're a better team this way."
The Phillies also proposed a rule that would allow batters to start every at bat with a 3-0 count, but it was rejected by the league because it probably wouldn't help the team score more runs anyway.
Though Joe Blanton is currently locked in as the team's fifth starter and will only pitch in about 15 of the Phillies' 81 home games this year, you will somehow defy the odds and watch Blanton pitch every time you attend a game this year, according to several reports.
"Watch, if you go to five random games this year, you'll get Joe Blanton every time," your friend reported. "You literally have zero chance of watching the other four guys pitch. None."
The Phillies released a statement apologizing ahead of time for what will inevitably happen to you this season and would offer you free tickets, but you would likely just see Joe Blanton pitch again.
"The odds of Joe Blanton starting a game are currently at about 19%, but unfortunately, when you purchase a ticket to watch a game, those odds balloon to 100%," the statement read. "We can't quite explain why this happens right now, but rest assured that it will happen. All we can do is apologize and suggest that you just enjoy what Joe has to offer."
Another report suggests that there is at least a small chance that you may see Cole Hamels pitch, but since you have already seen him pitch 800 times, that really isn't much of a consolation.
Experts also warned that if you decide not to attend a game where Joe Blanton is scheduled to pitch, there is a 100% chance that Cliff Lee will actually start that game and throw a perfect game.
Phillies pitchers and catchers reported to Spring Training on Sunday and while most of the first day's attention centered on the 'Four Aces' of Roy Halladay, Cliff Lee, Roy Oswalt and Cole Hamels, Kyle Kendrick turned heads by admitting that he may be in the worst shape he has ever been in.
"I really…feel like I…just ate…way too much…this offseason," said a winded Kendrick after his sixth attempt to tie his shoes. "Is it…hot in here?"
Kendrick, who said he has not set any expectations for himself this season, has yet to resume any baseball-related or physical-related activities, but is looking forward to joining the rest of his teammates for lunch very soon.
According to a report from the comments section of a popular website, Phillies ace Roy Holliday was announced as the unanimous winner of the NL Cy Young Award on Tuesday and became the first two-time winner in baseball history.
Holliday, who hurled six perfect games this season, beat out Adam Wanerite of St. Louis and Yubo Himez of Colorado and led the majors in wins (like 25), ERA (below 2.00) and strikeouts (like 320 or so), according to the internet report.
Though regarded as one of the game's best pitchers, Phillies ace Roy Halladay missed out on winning a second career Cy Young Award, but according to Twitter reports, pitchers Roy Halliday and Doc Holiday each won the award, which everyone was really excited about.
Facebook reports indicate that Cole Hammals didn't get a single vote, which really sucked, but Astros pitcher Brett Meyers received two.
"What's that all about?" the report continued.
Major League Baseball is now getting involved in the relief effort to help victims of Phillies pitcher Cole Hamels by setting aside about $53 on their behalf.
In addition to the relief fund, MLB is also prepared to offer counseling services to the families of those recently affected by Hamels over the past three months.
"Hamels has completely devastated a lot of people," said commissioner Bud Selig. "You can either ignore what's going on or get involved. We chose to get involved and raise about $53."
Albert Pujols, along with several other high-profile baseball players, was personally affected by Hamels during a July 22 contest at Busch Stadium.
"We're still trying to pick up the pieces," Pujols said of his team that has gone 20-27 since Hamels tore through the Cardinals lineup. "You try to move on, but how do you recover from Cole embarrassing you every night? You don't. That's how."
Selig also noted that while efforts to raise about $53 are going well, things could get a lot worse before they get better for opposing teams.
"The Phillies are starting to hit again," Selig said. "Prepare for the worst."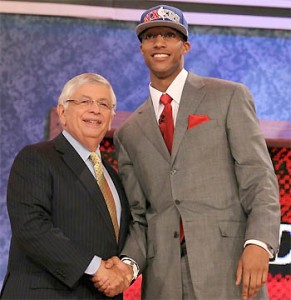 Philadelphia sports fans reportedly broke their historic tradition of booing and throwing urine-soaked snowballs at draft picks when they cheered the 76ers' selection of Evan Turner at the NBA draft on Thursday.
Though cheering for draft picks is a staple among non-Philly sports fans, Philly fans have historically berated athletes on draft day. However, that custom came to an end when Turner was selected with the second overall pick and greeted with warm applause by fans, marking the first such embrace by fans in Philadelphia sports history.
The most notable case of deplorable behavior by Philly fans on draft day was during the 1999 NFL draft when Donovan McNabb was booed unmercifully as he was selected with the Eagles' second overall pick. It was widely speculated that Eagles fans were booing the organization for not selecting Heisman Trophy winner Ricky Williams, but later reports confirmed that Philly fans are the scum of the earth and want to boo everyone at all times.
In a less publicized case, Allen Iverson was booed off the stage as he was selected with the first overall pick by the 76ers in 1996. Cole Hamels, the Phillies first-round selection in the 2002 MLB draft, was also booed by a throng of fans at his home in San Diego, CA as he sat in his living room with family and friends. Altogether, some 2,622 athletes have been booed by crazed Philadelphia sports fans over the years.
According to a report probably published somewhere, one rogue fan was heard booing while Turner's name was announced during the draft, which was, according to the report, "yet another black eye for Philadelphia sports fans."
Raul Ibanez can't hit, Kendrick can't get anyone out, the Marlins just showed they can beat us, the Braves are right on our tails, Moyer's old as hell, Jimmy Rollins is hurt, Lidge is stinking it up in the minors and won't be able to close, Danys Baez and David Herndon can't hold a lead, J.A. Happ and Joe Blanton are missing starts, Chase Utley stopped hitting homers, the Cardinals have Albert Pujols, Placido Polanco's average is below .400, nobody's stealing bases, fans are projectile vomiting on little girls, I still don't trust Cole Hamels and I'm worried about what's gonna happen with this team.
One of the first things the Phillies need to do is bench Raul and give Ben Francisco a chance out there. We should be able to trade Raul for some bullpen help, which is what we need anyway. I just don't know why Charlie keeps putting him in the lineup when he stinks like this. I'm pretty sure Domonic Brown is ready by now. Why don't we bring him up to take Raul's place? What's the hold up here?
The Marlins and Braves are seriously on our ass in the NL East and I think it's gonna be a serious battle the whole year and there's a chance we could miss the playoffs. The Marlins just beat us in two out of three games and even though the Braves are hitting .233 as a team right now, when they get going, they're gonna be dangerous with the pitching staff they have. I just don't feel right about our chances right now.
There are so many other things we need to fix before we can consider ourselves a real contender in the National League. I'm as optimistic as they come, but I'm freaking out right now. I know we're only 12 games into the season, but if this isn't time to hit the panic button, then when is?
The next time somebody even mentions the name "Cole Hamels" to me, I'm gonna ralph my brajole right in his face.
Who is this guy and who said he could still pitch in this town? Every time I turn around, he's either doing his hair or giving up a home run to some douche bag instead of doing his freakin' job. He's worthless to the team and I say we dump him for whatever we can get right now.
Here's what I say we do: We trade this bastard for another pitcher that can get the job done. There's always some dumb team out there willing to take a chance on a young douche like Hollywood Hamels that will give us an ace, like Cliff Lee, hallowed be thy name.
You can't tell me the Astros wouldn't trade Roy Oswalt for Cole Hamels right now. The Astros SUCK! They still haven't even won a game yet and need to rebuild. Cole would be a great fit for them since he's young and they're probably looking to deal Oswalt since he's a good player on a bad team, so it's a win-win for everybody. Ruben, if you're reading this, get this thing rolling. And don't forget who gave you the idea.
I just want it to be known that wherever I am, I will be booing this stuck up nutsack as loud as I can every chance I get. I wish I had front row seats at the Bank so he could hear me and know it was me that was booing him and making his life a living hell. I'll boo until I get my way and he's run out of town just like we did to Donovan McScab. And I don't care if they trade Cole to the Mets either, that's even better since I'll still be able to boo him to his face when he visits.
Bottom line is that my Phillies would be a much better team without Cole the Mole and his dumb windup. We gotta have some guy in the minors that can do a better job right now. I mean there are like 500 guys in the Phillies minor league system and one of them would be happy to come up here and pitch his ass off for us.
We'll never win a World Series with him in the rotation. We have to trade him right now before he sucks more and teams don't want him. In the meantime, I hope everyone will join me in booing this guy off the field the next time he gives up a hit or throws a ball or wakes up in the morning. He's got to learn that we don't tolerate giving up solo home runs in this town. You're not in Canada or wherever the hell you came from, Cole. Either get people out like you did in 2008 or GTFO.