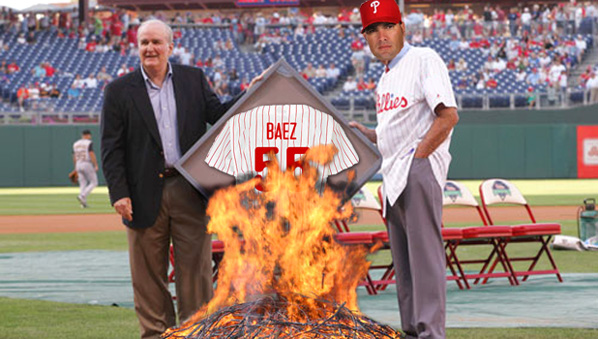 The Phillies will hold a pregame ceremony on Saturday afternoon before they take on the San Diego Padres to retire relief pitcher Danys Baez's No. 55 jersey by throwing it into a bonfire.
Baez, who was designated for assignment on Friday, will also throw out a ceremonial first pitch before the game which will also be cast into the bonfire.
In his two seasons with the Phillies, Baez maintained a 5.81 ERA over 80 games and joins Adam Eaton and Freddy Garcia as the only players in franchise history to have their jerseys destroyed during a pregame ceremony.
Major League Baseball took a gigantic step toward improving the quality of offense during Phillies games by allowing pitchers to serve as designated hitters for position players.
With the Phillies' run production the worst it has been in 20 years, the new rule would give the team a significant boost offensively as manager Charlie Manuel will now be able to let a pitcher like Cole Hamels bat for Ryan Howard during games.
"I really like the rule and think it could really get our offense going," Manuel said. "Even if it's a slight upgrade, like plugging Danys [Baez] in the leadoff spot for Jimmy [Rollins], I think we're a better team this way."
The Phillies also proposed a rule that would allow batters to start every at bat with a 3-0 count, but it was rejected by the league because it probably wouldn't help the team score more runs anyway.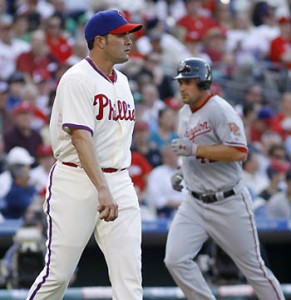 Phillies reliever Danys Baez has begun to loosen as a result of what appears to be a prank call to the bullpen made by manager Charlie Manuel in the top of the seventh inning.
"Get Baez ready," Manuel reportedly joked to head coach Mick Billmeyer. "We need him in the game, ASAP."
According to dugout sources, Manuel is ready to continue the charade by bringing Baez into the game to pitch to several batters while he makes a second prank call to have David Herndon get loose.
The Phillies announced that they will likely be without most of their lineup for tonight's game against the Cardinals after at least 11 players called out sick of hitting this morning.
"You're only supposed to get like five sick of hitting days a year but Jimmy's gotta be pushing 50 by now," said manager Charlie Manuel. " I know they're genuinely sick of hitting, but there are plenty of people out there sick of watching them hit and yet they still watch. These guys are gonna have to suck it up and start showing up to work again."
Sources close to the Phillies are also expecting reliever Danys Baez to call out sick of pitching again any minute now.
Danys Baez is set to take a physical and finalize his two-year deal with the Phillies this week, which may be the last significant move the Phils make this offseason, according to Todd Zolecki. Apparently, Ruben Amaro may still sign a couple muppets and your uncle Jimbo, but the days of signing "significant" talent like Danys Baez and his 4.04 career ERA may over with. In other words, get ready for another ride on The Bullpen. Scares the bageezus outta me.
I thought I'd compare this year's bullpen to last year to see if we've gained any ground at all so far, so here goes nothin':
Closer: No change. Brad Lidge posted a 7.21 ERA and netted 20 saves (31 saves minus the 11 he blew) as the closer for the eventual National League champs. Let's put it this way: I don't think it's possible to repeat the worst closer performance in the history of closers, so I'll say we improved slightly no matter what happens. Charlie can't throw him out there the way he did last year if the struggles continue, right? Anybody wanna back me up on that and make me feel better?
Setup: Ryan Madson stays. Scott Eyre and Clay Condrey combined for a 2.38 ERA over 72 innings for the Phils last year and as of right now, neither will not be back for 2010. J.C. Romero returns and it looks like Baez will join him and Madson as the go-to guys in the latter innings. Romero and Baez combined for a 3.77 ERA last season in 88.1 innings, with only 16.2 of those coming from Romero. J.C.'s coming off of an injury and a long layoff, so I wouldn't expect him to be the shut-down reliever we're used to. Baez is coming from the AL East, so it's possible he could look better in a Phils uniform than what he did last year with the Orioles.
Overall, I'd say 2.38 is lower than 3.77, so it looks like we had a better crew setting things up for impending disaster (Lidge) in 2009 than we currently do.
The Rest: Chad Durbin stays. Chan Ho Park, Tyler Walker and Jack Taschner combined for a 3.30 ERA over 114.2 innings and if it wasn't for "Take out the" Taschner, that ERA would be a lot lower. As of right now, that group is gone, and likely replaced with some combination of Antonio Bastardo (6.46 ERA in 6 games), Drew Carpenter (11.12 ERA in 3 games), Sergio Escalona (4.61 ERA in 14 games) and Mike Zagurski, who posted a 3.57 ERA in 45 games at Double-A Clearwater last year.
I'd say this year's bunch might make us beg for the '08 and '09 versions that we took for granted.
Overall, this year's bullpen is essentially the opposite of what you'd want from a team that is supposed to contend for a World Series championship: A closer coming off a miserable season and very little depth with inexperienced middle relievers.
One good sign is that last year's horrible bullpen turned it around about when Cliff Lee came on board and consistently pitched deep into games, saving the pen. Halladay should do that even better than Lee, and this time, for a full season.