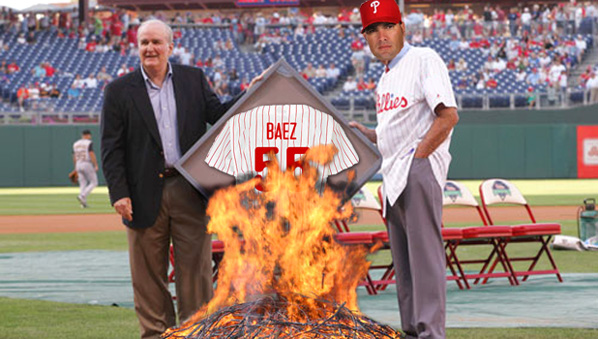 The Phillies will hold a pregame ceremony on Saturday afternoon before they take on the San Diego Padres to retire relief pitcher Danys Baez's No. 55 jersey by throwing it into a bonfire.
Baez, who was designated for assignment on Friday, will also throw out a ceremonial first pitch before the game which will also be cast into the bonfire.
In his two seasons with the Phillies, Baez maintained a 5.81 ERA over 80 games and joins Adam Eaton and Freddy Garcia as the only players in franchise history to have their jerseys destroyed during a pregame ceremony.
The Phillies have been using a new line of limp, powerless wood bats for the past two weeks and are fuming over the lack of any pop whatsoever during games.
"We're still trying to sort through who even ordered these things, but I can tell you I've never seen such lifeless bats in my life," said Phillies equipment manager Stephen Powell. "I ordered our normal bats about a week ago but they still haven't showed up. I just can't believe it's taken this long."
The Phillies come back home to face the Padres on Friday, when fans will be able to see the completely flaccid bats and even more flaccid offense play for the first time since May 23.