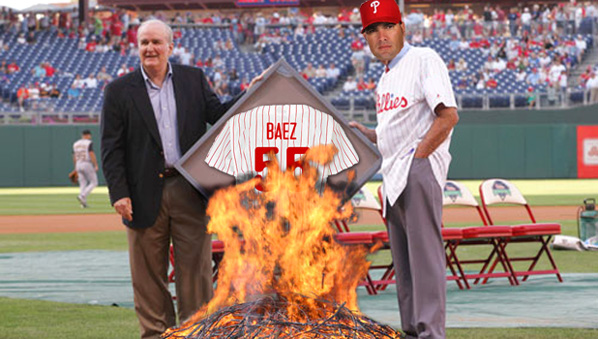 The Phillies will hold a pregame ceremony on Saturday afternoon before they take on the San Diego Padres to retire relief pitcher Danys Baez's No. 55 jersey by throwing it into a bonfire.
Baez, who was designated for assignment on Friday, will also throw out a ceremonial first pitch before the game which will also be cast into the bonfire.
In his two seasons with the Phillies, Baez maintained a 5.81 ERA over 80 games and joins Adam Eaton and Freddy Garcia as the only players in franchise history to have their jerseys destroyed during a pregame ceremony.
We give a then 45-year-old Jamie Moyer $13 million after a sub-par 2008 postseason and now we send Cliff Lee packing after plowing through the eventual World Series champs like he was Tiger Woo…ok, nevermind. But something ain't right here, Rube.
I heard on 97.5 The Fanatic this morning that the Phillies presented Lee with a contract extension offer about a week before the deal went down and within hours of presenting a counter-offer to the club, Lee was headed to Seattle for prospects.
If the above is true, then the Phillies essentially offered Lee a contract extension knowing he wouldn't accept it right away and were talking to Toronto about trading for Roy Halladay in the meantime.
To me, that's pretty damn shady of Ruben and the Phillies to dismiss Lee just because you want to bring in Roy Halladay. As great as Halladay has been and will probably be for the Phillies, I think Lee has earned the right to be treated as a king in this town for what he did this year instead of being heandled like Adam Eaton's soiled draws.
Personally, I wouldn't have made the deal if it strictly came down to keeping Cliff Lee or taking Roy Halladay. Halladay's got the deeper resume, but you can't do any better than 4-0 and shutting down the Yankees twice in the postseason, so I'm not tinkering with a great thing.
The only reason I initially liked the Halladay deal was because of the rumors about Lee wanting too much money and wanted to walk after the season.
Of course, most of this will fade when Halladay heads out there and does what Halladay has done for some time now, which is dominate anyone holding a bat 60 feet away from him, but we still have to wallow in this mess for the next couple months. What would make it worse is if Halladay or Cole Hamels goes down at some point — or worse — if Cliff Lee pitches out of his mind in Seattle and we're left wondering what could have been in Philly for 2010.
I just want the truth of what really went down because it's sounding like the Phillies screwed Lee over and if that's the case, it's going to be hard to stand behind a team that rolls that way when he gave you the most thrilling pitching performances this franchise has ever seen.
Phillies' closer Brad Lidge successfully converted his ninth blown save of the season Tuesday night in Pittsburgh, serving up a two-run walk-off home run to rookie Andrew McCutchen. The man once known as "Lights Out" was anything but, illuminating PNC Park with an impressive five-pitch, three-earned run performance.
Despite Manager Charlie Manuel's inexplicable faith in his closer, it appears bullpen help may be on the way – and it may come in an unexpected form. According to reports, former Phillies GM Pat Gillick and Special Assistant Charlie Kerfeld were in Denver this week, scouting a familiar face – former Phillie and current Colorado Rockies' pitcher Adam Eaton.
As the apparent last man in the bullpen, Eaton came on in the 13th inning in a 1-1 game on Monday night against the Giants. After working a 1-2-3-4-5-6 scoreless inning, he surrendered three runs in the 14th, giving San Francisco a 4-1 lead. But the Rockies clawed back to earn a 6-4 win on Ryan Spilborghs' walk-off grand slam. Eaton played a role in the Rockies' comeback, working a bases-loaded walk to drive in a run and scoring the game-winner. "I pride myself on putting my team in the best position to win," said Eaton. "And that's exactly what I did on Monday."
How does Eaton feel about potentially replacing his former teammate in the 'pen? "It would be a little awkward, but let's face it. I'm 1-0, Lidge is what, 0-10? We were both members of the team that won the World Series last year, so we're equal in that regard." In addition to his pitching, Eaton was quick to point out his performance on at the plate. "I drove in a run and scored another on Monday," he said. "So essentially I only gave up one run in two innings, which is pretty (expletive) nasty."
Although Eaton believes he could help the Phils repeat as World Champions, he is doubtful he would clear waivers due to the fact that "a World Series hero is a valuable commodity in late August."
The Phillies have also apparently shown interest in Jose Mesa, should they fail to acquire Eaton.
According to published reports, Phillies fans should be flogged, drawn and quartered for their behavior at Wednesday's World Series ring ceremony.
Players and coaches were showered with cheers as they came out to accept their prizes for a job well done, but as ex-Phillies pitcher Adam Eaton's name was called, several thousand fans morphed back into "typical Philly fan" mode and booed the World Series hero, almost to suggest that he was somehow undeserving of the priceless, over-sized ring.
Eaton signed a three-year $24.51 million deal with the Phillies before the 2007 season and posted a 14-18 record and 6.10 ERA over two seasons for the eventual World Series Champions before being released two months ago. In his 19 starts with the Phillies during their 2008 World Series run, the team was 8-11 before Eaton was sent to the minors where he posted an 0-5 record with a 7.02 ERA in seven games.
UPDATE: Adam Eaton never appeared in the World Series as previously reported, or any postseason game for that matter. Our depiction of Eaton as a World Series hero was grossly inaccurate, so it might actually seem appropriate to boo someone that was paid tens of millions of dollars to entertain a crowd, fell unimaginably short of those expectations and was given a ring to commemorate a World Series win that he almost prevented from ever happening in the first place.
Oh yeah, the Phillies finally won their first game of the year 12-11 over the Braves on Wednesday.
The Phillies have made the decision to pay Adam Eaton $9 million this year not to pitch. Eaton's release comes two years after signing a three-year $24 million deal with the Phillies after the 2006 season. His near-perfect 14-18 record over that span and slowpitch-softballesque 6.10 ERA qualified him as one of the recently expendable god-awful players.
"Under normal circumstances, we would be able to hold onto a vomit-inducing underperformer like Adam [Eaton], but these are trying times," said GM Ruben Amaro. "Once he got beat out by our IT guy for our the emergency ninth spot in our rotation, we realized it was time to cut our losses."
Eaton was originally a first-round draft pick (11th overall) by the Phillies in 1996 but was traded to the Padres in 1999. It was former GM Pat Gillick that thought enough of the career 4.80 ERA pitcher to bring him back.
"I just want to thank Pat [Gillick] for having enough faith in me to give me that contract," said Eaton. "I have no clue what he saw in me since average hitters turned into MVPs when I pitched for Texas and I helped at least 47 guys get into the Hall of Fame while I was with the Phillies…but I enjoyed the whole experience."