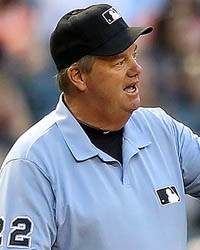 Veteran umpire Joe West said Tuesday that he was correct to use replay during Sunday's Phillies-Marlins game and maintained that he was simply "following the rules [he] made up."
"Look, as an umpire, there are strict guidelines I have to follow which are clearly outlined in my head before each game," West said. "I'm just doing my job."
West made the controversial decision to use replay to decide whether a Hunter Pence double had been interfered with by a fan, which eventually led to Pence being called out. The Phillies played the remainder of the game under protest.
The Phillies went on to lose in 14 innings after West refused to review a play in which outfielder Shane Victorino was called out after hitting a a grand slam too far.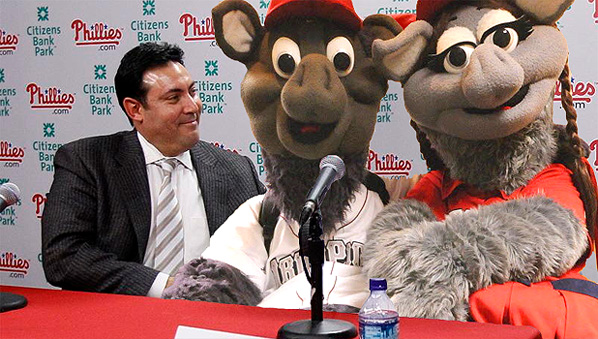 The Phillies have recalled promising young mascots Ferrous and FeFe from Lehigh Valley on Thursday to replace the Phillie Phanatic, who was placed on the 15-day disabled list with a neck contusion.
The Phanatic was struck by a foul ball while playing mascot at an IronPigs game, but team doctors expect the Galapagos native to be back with the big club in two weeks.
Ferrous and FeFe are expected to fill in at mascot for the Phillies while the Phanatic is sidelined, but manager Charlie Manuel said Thursday that the pigs will also see significant playing time in left field.
Following a 2-0 loss to the Mariners, the Phillies casually left Seattle on Monday without telling left fielder Raul Ibanez, hoping no one would notice for a while.
"I don't know what you're talking about," manager Charlie Manuel said of giving Ibanez the wrong departure time and canceling his morning wakeup call. "I've never heard of that guy before in my life. I think you've got me mixed up with some other guy. But, I hope you find out what happened to this Ibanez fella, though. He sounds like he used to be a pretty good ballplayer."
Manuel was later asked whether he had heard from either Jimmy Rollins, Placido Polanco, Ryan Howard, Carlos Ruiz or Ben Francisco, who also went missing after Sunday's loss and were not on the flight to St. Louis for Tuesday's series opener against the Cardinals.
"Nope. Sorry, not ringing a bell," Manuel said. "I feel bad for whoever this manager is that keeps losing his players like this though. I hope he gets them back at some point."
Major League Baseball took a gigantic step toward improving the quality of offense during Phillies games by allowing pitchers to serve as designated hitters for position players.
With the Phillies' run production the worst it has been in 20 years, the new rule would give the team a significant boost offensively as manager Charlie Manuel will now be able to let a pitcher like Cole Hamels bat for Ryan Howard during games.
"I really like the rule and think it could really get our offense going," Manuel said. "Even if it's a slight upgrade, like plugging Danys [Baez] in the leadoff spot for Jimmy [Rollins], I think we're a better team this way."
The Phillies also proposed a rule that would allow batters to start every at bat with a 3-0 count, but it was rejected by the league because it probably wouldn't help the team score more runs anyway.
The Phillies were unable to capitalize on several early scoring opportunities against the Dodgers on Tuesday, including a scoreless first inning that featured three bases loaded walks.
"The Dodgers literally gave us three runs there in the first inning and we couldn't do anything with them," manager Charlie Manuel said. "I didn't think it was possible to face a guy that throws 16 straight balls and you can't score. But, we found a way. We always do."
The Phillies would later stumble upon two runs but went on to lose 6-2 after the Dodgers capitalized on several scoring opportunities without even swinging the bat.
Cliff Lee helped his cause in maintaining his spot in the Phillies rotation on Monday by hurling seven shutout innings against the Dodgers with 10 strikeouts.
Charlie Manuel said that Lee's impressive start earned the former Cy Young winner another turn in the rotation, but another bad outing could mean a demotion to the bullpen, or worse.
"I don't know what this guy's problem is, but he better fix it quick," Manuel said of Lee, who currently leads the majors in strikeouts with 100. "This last start saved his ass, but I don't know how much longer I can put up with him and his 3.62 ERA or whatever it is right now."
Team sources indicate that the Phillies currently have a deal in place to trade Lee back to the Mariners for another trio of can't-miss prospects in the event that Lee allows a hit in his next start.
Phillies relief pitcher J.C. Romero was bailed out of yet another late-inning jam on Wednesday after walking 62 consecutive batters before David Herndon came in to record the final out of a scoreless 7th inning, stranding all 62 runners on base.
"He seems to get himself into these jams all the time, but I don't mind putting him out there again because he always finds a way to let someone else bail him out," said manager Charlie Manuel. "Plus, I'm not ready to give up on J.C. just yet. You know what I always say: 'If it ain't broke beyond any hope of repair, just keep sending it out there.'"
By recording one out before walking the 62 consecutive batters and getting bailed out for the 18th time in 18 appearances this season, Romero was able to lower his ERA from 3.86 to 3.75.
While Chase Utley made his return to the Phillies lineup on Monday after missing the start of the season with patellar tendinitis, the second baseman continues to downplay the sound of bone grinding on bone coming from the his right knee and insists he is OK to play.
"Seriously, it's nothing. I'm good," Utley shouted to reporters over the loud, chilling sound his knee made as he sat down in front of his locker. "Charlie [Manuel] said to let him know if it starts to bother me and that's what I'm gonna do. But for now, it feels awesome."
Utley also responded to reports of hearing several loud popping noises from his knee by saying that he would play through it and "get that checked out at some point."
The Phillies placed center fielder Shane Victorino on the disabled list and recalled top prospect Domonic Brown, who manager Charlie Manuel has touted as the organization's "pinch-hitter of the future."
"This kid has shown the ability to hit at every level in the minors and hopefully he'll have the same success up here when and if I decide to use him," Manuel said of Brown, who primarily played outfield in the minors, but is currently listed as a left-handed pinch-hitting decoy on the Phillies roster. "He might be the only five-tool bench player in the majors right now, and that's saying something."
Manuel went on to say that he will start Brown in right field against the Rangers on Saturday and ease him back into his role on the bench.
Phillies manager Charlie Manuel spoke to reporters on Tuesday about the team's preparation for tonight's matchup against Marlins ace Josh Johnson, which included using a left-handed heavy lineup and acquiring Johnson in a trade.
"We came into this game watching a lot of video on Johnson and decided the best way to approach him is to be aggressive and trade for him as quickly as possible," said Manuel. "Some of our guys have had success against him in the past, but we think these adjustments of moving him from the Marlins to our team will give us a significant edge."
The Phillies also acquired Marlins outfielder Logan Morrison in the deal for Johnson and sent five no-named, garbage minor leaguers that will somehow turn into major league stars to the Marlins.