Following a 2-0 loss to the Mariners, the Phillies casually left Seattle on Monday without telling left fielder Raul Ibanez, hoping no one would notice for a while.
"I don't know what you're talking about," manager Charlie Manuel said of giving Ibanez the wrong departure time and canceling his morning wakeup call. "I've never heard of that guy before in my life. I think you've got me mixed up with some other guy. But, I hope you find out what happened to this Ibanez fella, though. He sounds like he used to be a pretty good ballplayer."
Manuel was later asked whether he had heard from either Jimmy Rollins, Placido Polanco, Ryan Howard, Carlos Ruiz or Ben Francisco, who also went missing after Sunday's loss and were not on the flight to St. Louis for Tuesday's series opener against the Cardinals.
"Nope. Sorry, not ringing a bell," Manuel said. "I feel bad for whoever this manager is that keeps losing his players like this though. I hope he gets them back at some point."
Propelled by a key, two-out RBI single in the second inning by Roy Halladay, the Phillies cruised to a 4-0 victory over the Reds in Game 1 of the National League Division Series.
Playing in his first ever postseason game after 12 seasons in the majors, Halladay singled to left field off of Edinson Volquez, scoring Carlos Ruiz to put the Phillies up by a count of 2-0  in one of the more memorable moments in Phillies postseason history.
"I was just focusing on putting the bat on the ball and making some contact," Halladay said of his clutch hit. "People are trying to make a big deal out of it, but I was just doing my job out there, which is to get on base and score runs any way I can."
On the mound, Halladay scattered zero hits over nine innings of work, earning his first career postseason win.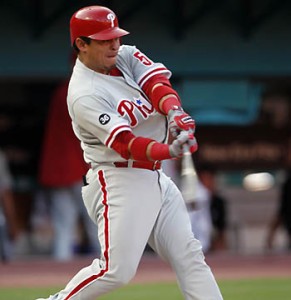 Citing a need for a clutch bat in the bottom fourth of the batting order, Phillies manager Charlie Manuel decided to move the red-hot Carlos Ruiz to 12th in his lineup for Tuesday's game against the Astros.
"He's been one of our best hitters this year," said Manuel of Ruiz, who is third on the team in batting average (.297) and second in on-base percentage (.389) and bats in front of the pitcher on most nights. "We're just lucky to have such a great, clutch hitter at the very bottom of our lineup."
When informed by the home plate umpire that he could not bat Ruiz 12th in the lineup, Manuel stated he was "totally fine with 11th, then."
Previously owned by Dodgers closer Jonathan Broxton, Jonathan Broxton was officially turned over to a group of Phillies led by Carlos Ruiz following a dramatic, walk-off win on Thursday.
"We now fully own Jonathan Broxton, but don't expect things to change around here," said majority owner Ruiz, who is now 3-for-3 against Broxton for his career with three doubles and four RBIs. "We will still pound his straight, 98-mph meat like we always have and he will likely stay as fat, if not more fat, than he has always been."
The transfer of ownership to the Phillies ends a 26-year run by Broxton that included a disastrous senior prom in 2002 and surrendering an epic home run to Matt Stairs in Game 4 of the NLCS in 2008.
Though it looked like Carlos Ruiz and the Phillies were ready to end negotiations, the two sides were finally able to come to terms on a new hair extension.
"It looked like we weren't going to get anything done for a while there," Ruiz said on Tuesday. "I was asking for an actual contract extension, but they wanted me to work for free. So, we met in the middle, and now I look like a douche."
The extension should last about three years and includes a 2013 club option to pay Ruiz actual money — $5 million — but the Phillies will probably find a way to waste that cash on Jamie Moyer.
It looks like Jason Bay really loves that paper after signing with a disaster of an organization that plays in a stadium the size of Central Park. His power numbers will fall and his chances of a World Series will tank even further.
Bay and his 4-year $66 million contract will join David Wright and his 10 home runs from last season as the only two batters that remotely resemble a threat in the Mess' order. Most people can't even name one Cincinnati Reds player and yet they managed to score more runs than the Mets and their overpriced talent last season.
Wright led the Mess with 72 RBI last season, which would rank below Jimmy Rollins (77), who kept the bat on his shoulder and occasionally used it to pop the ball into the air for five out of six months last season. On the up-side, Wright did finish with more RBI than Shane Victorino (62), Carlos Ruiz (43) and Eric Bruntlett (7).
Though the pickup of Kelvim Escobar was a step in the right direction — a move I wish the Phils could have made — no one should even consider the Mets a contender for the #4 spot in the NL East until they get someone else to throw besides John Maine and a slew of head cases.
Signing Bay is a cosmetic move that might make the Mets look like they're trying to be presentable in public, but most of us know what lies beneath. And it's hot and fugly under there.
The Phillies took another awful loss to the Yankees on Sunday and while several thousand things went wrong for the Fightins during the game, it may have been what didn't happen after the game that set Charlie Manuel off the most: Someone at Citizen's Bank Ballpark forgot to roll the tarp out onto the field.
"That's the catcher's responsibility in that situation," Manuel said of Carlos Ruiz, although several members of the grounds crew were spotted closer to the tarp with nothing else to do after the game. "He's faster than most of the grounds crew and I think he's got to know that when there's rain in the area, he's got to be the guy to make sure the field is covered at night."
Ruiz, who has only struck out five times in 93 career postseason at bats, will bat eighth again for the Phillies in Game 5 despite being one of the only hitters to lay off of balls thrown well outside of our planet's orbit on a consistent basis.
The Phillies will make their second trip to the World Series in as many years and while most fans are once again overjoyed and totally hung over with Phils Phever, one fan can't seem to get into this most recent title run.
"I just can't get excited this time around," says nobody, a business manager from Doylestown. "It's like it happens every year now where someone steps up big every night to completely obliterate the heart and soul of some opposing team that everyone outside of this area wanted to see win instead of the Phillies. How is that exciting?"
Nobody went on to say that if the Phillies end up topping the Yankees for their third World Championship in franchise history and second straight World Phuckin Championship, that he may stop watching the Phillies altogether and follow the Philadelphia Union or something.
Carlos Ruiz raised his batting average by nearly 100 points in two days after turning in back-to-back 2-for-2 performances.
Ruiz entered Wednesday's contest with a .161 average and left Thursday's game with a robust .257 mark. 'Chooch' also walked twice in each game, which raised his OBP from .278 to .409.
Teammates have noted that the seemingly insignificant streak has started to affect Ruiz's clubhouse behavior.
"He's going around asking everybody what their batting averages are over the past two games," said Ryan Howard, who happens to be batting .000 in that period. "And before you can get it out, he's like 'No one cares 'cause it's definitely not 1.000 like mine is'."
Jimmy Rollins, who responded with a 1-for-5 night after being placed back in the leadoff spot, also felt the sting of Ruiz's braggadocio after Thursday's game.
"I was really about to go upside Chooch's head a minute ago," Rollins said. "He said something like 'Dawg . . . can you remember the last time one of these raggedy-ass pitchers actually got me out? 'Cause I just can't seem to recall.'"
In the latest World Series-related distraction that the Phils really don't need, the team visited President Obama at the White House today and will take on the Nationals tonight at 7:05. Joe Blanton will try and get the Phils back in the win column as he faces off against John Lannan.