Phillies outfielder Raul Ibanez admitted Friday to using "a number of different" performance-enhancing Nationals over the past three days in an effort to snap out of his recent 0-35 slump.
Ibanez went 8-for-12 in this past series with two home runs and five RBI and the rumors started to fly about whether the 38-year-old's sudden boost in production was related to PEN use.
"I just want to apologize to my teammates and my family for foolishly trying to use performance-enhancing Nats just to inflate my stats," said Ibanez, who attributes his recent power surge to a PEN called Lannan and another named Marquis. "I wanted to prove that I could still play at a high level and instead of doing it the right way, I started using Nats. It was a dumb thing to do."
Some reports estimate that as many as 90% of current major leaguers use PENs to help with on-field performance. Though Major League Baseball has done very little to combat this issue, Congress may soon get involved to stop PEN use by contracting the embarrassment of a franchise from the league.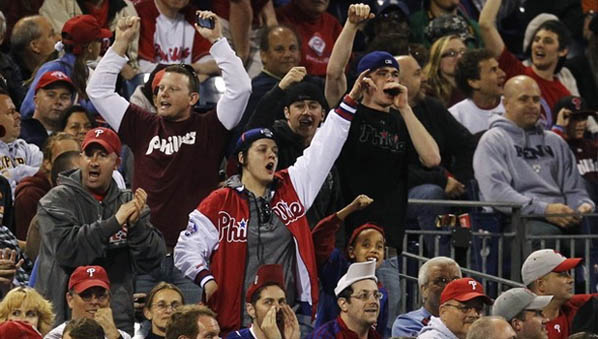 In what may be the most heinous act in the long, sad history of disturbing behavior by Philly fans, the death of an elderly man was cheered loudly by thousands of fans during a Phillies game against the Mets on Sunday.
Osama Bin Laden, a 54-year-old Saudi man who was the mastermind behind the September 11, 2001 attacks on the United States, was shot and killed Sunday which set off a chorus of cheers and chants of "USA! USA!" from the callous and barbaric Philadelphia crowd.
"It was possibly the worst thing I had ever seen in my life," said ESPN analyst Buster Olney. "It's that typical Philly fan behavior and it's disgusting. You give them the chance to act like normal human beings after hearing that a guy was shot and killed, but they start cheering like animals. Braves and Giants fans would have sat quietly in their seats and said a prayer for this man's family, but not in Philly. And by the way, if I haven't mentioned him yet…Santa Claus."
Following the game, one Phillies fan, Rob Bailey, took it upon himself to apologize on behalf of the entire fanbase for what took place Sunday night.
"It was pathetic. We should've cheered a lot louder than that," said Bailey.
New York Mets announced Thursday that the team is currently looking for a roommate to try and offset some operating expenses and asked that you contact them if you know anybody.
"We'll give you complete run of the place if you can just pitch in to cover some of Angel Pagan's salary or at least the sewer bill," said team owner Fred Wilpon, who now lives in his office but promises that you wouldn't even know he was there. "Really though, whatever you can contribute is cool."
In an effort to draw more interest, the Mets have offered to let you manage a few games if you commit to a two-year lease and try to keep it down after 11pm.
Luis Castillo told reporters Monday that he was pretty creeped out after the Phillies signed the second baseman to a minor league deal only three days after he was released by the Mets.
"At first, it was kind of flattering to know [the Phillies] had some interest, but then they started acting like 'Luis, we can't afford to lose you' which was really strange since I was just released by the Mets," said Castillo, who hit .235 last season and has one home run in his last 273 games. "They act like they've never seen an aging, light-hitting second baseman before. It's just weird."
Castillo said he still doesn't know what the Phillies want from him and doesn't rule out that the Phillies brought him on board just to mess with him.
The Mets unveiled their 2011 promotional items on Friday and have assured fans that none of the over 7,000 items in the unorganized pile came from the recently closed Citi Field lost and found.
"This year, like every year before, we are thrilled to give away brand new items," said Mets general manager Sandy Alderson. "We will open our home schedule against the Nationals with Harrah's Engraved Necklace Night, where the first Karen that loves a Stew will receive a personalized necklace. Other great promotions will include Chevy Size 8 Left Shoe Night and our soon-to-be-popular Delta Air Lines Mets Jacket With Brown Stuff On It Night."
Alderson went on to say that if anyone happens to receive a watch with the engraving "SA" during one of the promotions, to return it immediately in exchange for a denim jacket.
The New York Mets will be rewarding fans in attendance during the 2011 season with 'Offering Day' where a collection plate will be passed around between innings as a part of an 81-game promotion.
"Starting on our first home game, the first 42,000 fans in attendance will receive nine small envelopes to place their money in for the collection," Marketing Manager Deanna Berdine said. "And fans shouldn't worry about missing the promotion if they happen to be taking a bathroom break. Someone will meet you in your stall to collect your offering."
To further accommodate fans during the promotion, the Mets will employ up to 100 specially-trained 'Promotion Enforcers' to ensure that every fan in attendance is taking part in the promotion.
In a failed attempt to try and recoup money lost in the multibillion-dollar Ponzi scheme run by Bernie Madoff, New York Mets owner Fred Wilpon was left ass out on Wednesday after blowing the rest of the team's money in a Brooklyn-area dice game.
Wilpon issued a statement on Thursday with an apology to Mets fans and the organization for "being so foolish to think [he] could keep riding sevens like that."
This is just the latest in a long string of awful financial decisions by members of the Mets organization, highlighted by a $36 million investment in the frighteningly awful Oliver Perez, who is 3-9 with a 6.81 ERA over the first two years of a three-year extension.
The dice game loss means Wilpon will be forced to turn over legal control of the Mets franchise to dice legend Ashy Larry.
New York Mets closer Francisco Rodriguez is in police custody after physically assaulting his father-in-law and will be placed on the 15-day LOL list as a result.
According to police, the assault occurred after the Mets' 6-2 loss to the Rockies Wednesday night. Team officials later confirmed that due to the incident, the Mets had no other choice but to LOL Rodriguez.
Rodriguez joins teammates Carlos Beltran, Jeff Francoeur, Johan Santana, David Wright, R.A. Dickey, Jose Reyes, Luis Castillo, Oliver Perez, John Maine, Jason Bay and the rest of the Mets organization on the LOL list and will likely remain there well beyond the minimum 15 days.
Phillies outfielder Jayson Werth reached a new career milestone during Friday's game against the Mets when he made his way around the bases for the first time ever without getting picked off, falling down, going to sleep, forgetting to breathe or wandering off to go find a bar.
"When he's on base, Jayson seems interested in doing everything except staying on base," said manager Charlie Manuel. "So to make it home the way he did is pretty much the equivalent of you or I curing cancer. It's really nothing short of a miracle that he didn't kill himself out there."
With this milestone out of the way, Werth will now look toward driving in a run with two outs and runners in scoring position for the first time since high school gym class.
The Phillies' week-long celebration of their fans  continued Thursday as the team once again hit as if they were one of their millions of fans with no professional training on how to hit a baseball.
"I dedicated my four at bats yesterday to the guys at Lee's Hoagie House in Southampton," said Jayson Werth, who struck out in three of his four plate appearances, which is probably what guys who run a sandwich joint could have done. "The double play I hit into was dedicated to Steve, who I know played a little ball in high school which is why I actually made some contact."
Since the start of the celebration last Saturday, the Phillies have lost five straight and were shutout in three straight games by the division-rival Mets. There is no official word on when the team plans to end the tribute, but it will likely continue on Friday against the Marlins as the Phillies will face another mediocre pitcher in Chris Volstad.