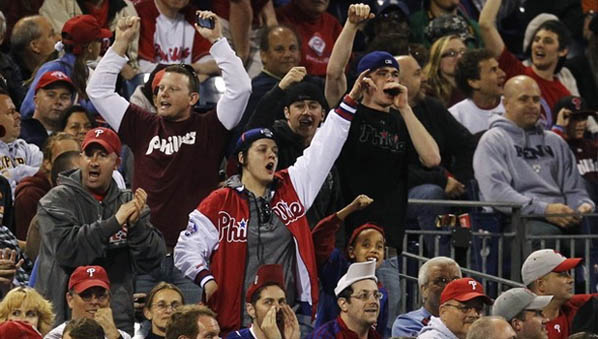 In what may be the most heinous act in the long, sad history of disturbing behavior by Philly fans, the death of an elderly man was cheered loudly by thousands of fans during a Phillies game against the Mets on Sunday.
Osama Bin Laden, a 54-year-old Saudi man who was the mastermind behind the September 11, 2001 attacks on the United States, was shot and killed Sunday which set off a chorus of cheers and chants of "USA! USA!" from the callous and barbaric Philadelphia crowd.
"It was possibly the worst thing I had ever seen in my life," said ESPN analyst Buster Olney. "It's that typical Philly fan behavior and it's disgusting. You give them the chance to act like normal human beings after hearing that a guy was shot and killed, but they start cheering like animals. Braves and Giants fans would have sat quietly in their seats and said a prayer for this man's family, but not in Philly. And by the way, if I haven't mentioned him yet…Santa Claus."
Following the game, one Phillies fan, Rob Bailey, took it upon himself to apologize on behalf of the entire fanbase for what took place Sunday night.
"It was pathetic. We should've cheered a lot louder than that," said Bailey.