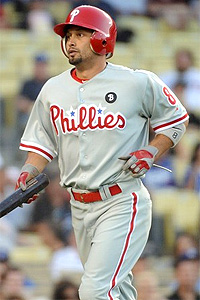 Major League Baseball announced Monday that Shane Victorino will be suspended for 30 games after making an aggressive charge toward first base during a first-inning single against the Nationals on Sunday.
Victorino, who had just returned from a serving a two-game suspension, will likely appeal the suspension and could have it reduced to as few as 29 games.
MLB also announced that Washington's Chien-Ming Wang, Michael Morse, Jayson Werth, Ryan Zimmerman, Ian Desmond, Rick Ankiel, Danny Espinosa, Jesus Flores and Jonny Gomes will not be suspended or fined for throwing several bats and balls at Victorino during the first-inning single.
The Phillies stranded a major league record 500 men on base against the Nationals on Tuesday as a part of a fitting tribute to their former teammate Jayson Werth.
"Jayson always loved a good stranded runner. That was kind of his 'thing,'" said Shane Victorino, who pointed and smiled at Werth after striking out with the bases loaded in the seventh inning. "We could have easily put 10 or 20 runs on the board, but this was Jayson's night."
The Phillies will attempt to honor the passing of legendary broadcaster Harry Kalas, who died two years ago today, by singing "High Hopes" after beating the Nationals 50-0 Wednesday night.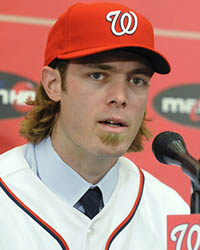 Ex-Phillie Jayson Werth's obsession with his old team continued on Sunday when the jilted Nationals outfielder sent 561 drunk text messages to the Phillies, mostly begging for forgiveness and for the team to take him back.
The texts come a day after it was reported that Werth declared his hatred for the Phillies, though the texts tell a different story.
"i didnt meen taht stuf abt hatin u babby," read one text. "pleeeeez tkae me bak…godd im soo wassted."
Other texts ranged from begging and apologies to drunken gibberish.
"aaaaaaaa!!!! i luuuuuuv the Biebs!!"
"wwhy did i tkae da moniies?!?!"
"omg..ths couhc feels llike hevens"
"natoinals smels like feeet….tehy r so badd"
"i missss winnnin wit u…god times"
"wat do u c n lee taht u dont c n me??!#?"
"sweeeet!!!?! hammm sanwihc"
"its not 2 laet 2 change…..i can chaeng babby"
"ths chic ovr heer is chekn me out rite now…..u jelus?!"
"im sso hapyy i took teh moniies"
"ooooo philles u stand by me….im forever urs fathfulyyyyyy….luve taht songg"
"aaaaaaejkqhj329kndjk….."
Werth would later leave a drunken voicemail message with the Phillies asking if the team wants its ring back.
The baseball world was turned on its head on Sunday after the Washington Nationals became the first team ever in the 110-year history of Major League Baseball to grossly overpay an athlete by agreeing to a seven-year, $126 million contract with free agent Jayson Werth.
"This is outraaaaaaaageous!" said one rival general manager. "Since when do we just go around throwing money at players like this?"
Up until now, the major league salary structure was able to regulate itself based on the calm, rational decisions by general managers, such as the Dodgers signing of Darren Dreifort for $55 million or the Rockies signing Mike Hampton for $121 million after the 2000 season. However, the Nationals signing of Werth will likely lead to a structure where nearly every player will begin to earn far more than they actually deserve for playing professional baseball.
"The honeymoon is over," said another GM. "The days of being able to pay a top free agent outfielder $100 million have come and gone. Everyone can thank the Nationals for that."
In what is being labeled as the worst case of bribery since Alex Rodriguez took $252 million from the Texas Rangers in 2001, Jayson Werth has accepted a $126 million bribe from the Washington Nationals in exchange for favors ranging from playing right field to making public appearances on behalf of the ballclub.
"We knew going into this that it would take a ton of money to get him in our pocket," Nationals general manager Mike Rizzo said of Werth. "But everybody's got a price, and to be honest, $126 million to get a guy to play for the Nationals for seven years is getting off kinda easy."
Rizzo added that the Nationals are not finished offering bribes and will not stop until they have "at least 25 major league players on the payroll."
After several days of trying to holla at free agent Jayson Werth, the Red Sox are finally close to getting them digits from the outfielder, team sources report.
"At first, they was like 'Ay yo shawty, lemme holla at you for a minute.' But Werth wasn't tryin' to hear all that," one source said of the team's previous attempts to court the All-Star. "But then, it was like 'Baby, all I wanna do is get to know you a little better, nah mean?' That's when they got to conversatin'."
Werth said Thursday that "it's OK"  that the Red Sox are likely only into him because he is a professional baseball player since he is only drawn to the team for their money.
Jayson Werth strongly disagreed with Phillies manager Charlie Manuel that his hitting is starting to affect his main focus of becoming a free agent after the season.
"I think it's hard not to get distracted by having to go up there and hit every night," Manuel said when asked if Werth's hitting could be a distraction from thinking about all the money he's going to make as a free agent. "He's been in the zone lately, completely focused on signing a long-term deal this winter. But sometimes his mind just wanders to working the count or how many outs there are."
Werth spoke Thursday about Manuel's comments and reiterated that his focus is on hitting the market and nothing else.
"I bust my hump out there every day trying to imagine what it would be like to own a small island with the money I'm going to make," Werth said angrily. "Thinking about who has the ball is the last thing on my mind, I can promise you that."
Phillies outfielder Jayson Werth reached a new career milestone during Friday's game against the Mets when he made his way around the bases for the first time ever without getting picked off, falling down, going to sleep, forgetting to breathe or wandering off to go find a bar.
"When he's on base, Jayson seems interested in doing everything except staying on base," said manager Charlie Manuel. "So to make it home the way he did is pretty much the equivalent of you or I curing cancer. It's really nothing short of a miracle that he didn't kill himself out there."
With this milestone out of the way, Werth will now look toward driving in a run with two outs and runners in scoring position for the first time since high school gym class.
Incredibly horrible sources indicate that Phillies outfielder Jayson Werth may be traded before the July 31st trading deadline but, according to the same sources, there is also a chance he could stay.
Terrible sources noted that the Phillies remain buyers and will likely keep Werth. However, if the Phillies fall out of contention, the team will entertain a trade involving the outfielder, according to awful sources.
Horrible sources also indicate that it's a miracle and a travesty that they are currently employed.
Pirates pitcher Ross Ohlendorf hadn't won a game since August 18 of last season and hadn't had arms in ever, but managed to hold the Phillies to five hits in seven shutout innings with eight strikeouts.
Ohlendorf had previously struggled with his lack of discernible talent or ability to grip and throw a baseball, but somehow excelled against the reigning National League champions, picking up his first win in nearly a full calendar year.
"We've been struggling for a while now, but I think this is a new low," Jayson Werth said after the game. "It's bad enough that the guy plays for the Pirates and has never held or thrown a baseball before, but to lose to a guy that hasn't won a game since last August is kind of ridiculous."
The Phillies lost to the Pirates the previous night when Daniel McCutchen, who carried an 0-3 record and an 11.00 ERA into the game and was born without a torso or bones, held the Phillies to one earned run over 5.1 innings.