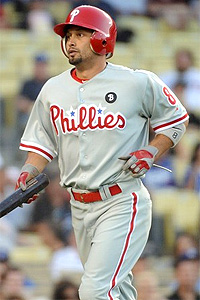 Major League Baseball announced Monday that Shane Victorino will be suspended for 30 games after making an aggressive charge toward first base during a first-inning single against the Nationals on Sunday.
Victorino, who had just returned from a serving a two-game suspension, will likely appeal the suspension and could have it reduced to as few as 29 games.
MLB also announced that Washington's Chien-Ming Wang, Michael Morse, Jayson Werth, Ryan Zimmerman, Ian Desmond, Rick Ankiel, Danny Espinosa, Jesus Flores and Jonny Gomes will not be suspended or fined for throwing several bats and balls at Victorino during the first-inning single.