Desperate Jayson Werth sends 561 drunk texts to Phillies
Updated:
February 28, 2011
By Zaki, PhillyGameday.com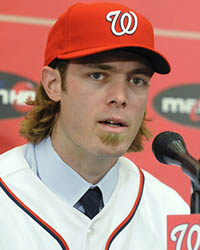 Ex-Phillie Jayson Werth's obsession with his old team continued on Sunday when the jilted Nationals outfielder sent 561 drunk text messages to the Phillies, mostly begging for forgiveness and for the team to take him back.
The texts come a day after it was reported that Werth declared his hatred for the Phillies, though the texts tell a different story.
"i didnt meen taht stuf abt hatin u babby," read one text. "pleeeeez tkae me bak…godd im soo wassted."
Other texts ranged from begging and apologies to drunken gibberish.
"aaaaaaaa!!!! i luuuuuuv the Biebs!!"
"wwhy did i tkae da moniies?!?!"
"omg..ths couhc feels llike hevens"
"natoinals smels like feeet….tehy r so badd"
"i missss winnnin wit u…god times"
"wat do u c n lee taht u dont c n me??!#?"
"sweeeet!!!?! hammm sanwihc"
"its not 2 laet 2 change…..i can chaeng babby"
"ths chic ovr heer is chekn me out rite now…..u jelus?!"
"im sso hapyy i took teh moniies"
"ooooo philles u stand by me….im forever urs fathfulyyyyyy….luve taht songg"
"aaaaaaejkqhj329kndjk….."
Werth would later leave a drunken voicemail message with the Phillies asking if the team wants its ring back.
Zaki is the Chief Rocka and senior writer for PhillyGameday.com and thinks you should hurry up and follow the site on Twitter and Facebook before it's too late.