Unable to successfully complete his one job in life, surgeon Fran Gargiulo botched a simple procedure on Phillies closer Brad Lidge, who will now likely be out for the next four to six weeks as a result.
"It was a pretty simple procedure and I've done it hundreds of times before, but things have been rough for me this year," said Gargiulo after he failed to close the door on another surgery for the second time in his last three attempts. "This is just a part of the job. Some days we have it and some days we don't. I just couldn't cut it out there today."
Physicians assistants were forced to bail Garguilo out and literally stop the bleeding as the 27-year veteran operated on the wrong knee to begin with and then used a toothbrush and a spork to perform the procedure.
"It's almost like he completely forgot how to do his job all of the sudden," said one nurse. "I just hope we can get whatever is wrong with him fixed soon because we really need him back out there as soon as possible."
Gargiulo is scheduled to undergo surgery on his surgery hand as early as next week and may miss that breast implant procedure he was really looking forward to.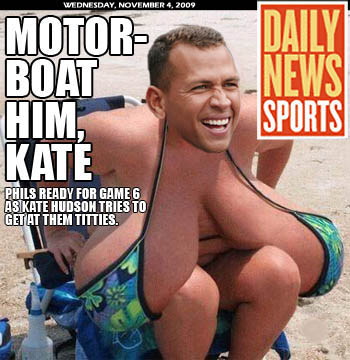 The New York Post ran a front page story today with Pedro Martinez in a diaper along with the headline "Spank Him, Yanks: Daddy to whup Pedro tonight." Naturally, the Philadelphia Daily News rolled out a similar story later in the day with Yankees star Alex Rodriguez relaxing in a beach chair.
The cover immediately caused controversy because of the way A-Rod's incredibly large breasts — or 'bitch tits' according to his former teammates -  were shown in the photo.
The Daily News removed the photo from its website, Philly.com, and pulled print issues from the shelves, but PhillyGameday.com was able to retrieve a copy beforehand (left).
EDITOR'S NOTE: If there were ever a time one team needed to bear down and play out-of-their-minds baseball, that time is now. I think just as important as it is for the Phils to win this series, it's just as important that the Yankees lose it. LET'S GET IT DONE PHILS!
After getting hit on the hand by an A.J. Burnett fastball in the first inning, many are wondering if Shane Victorino will be ready to play for the Phillies in Game 6. Victorino says that he will be ready to play, and that his freakishly swollen hand is fine.
"My hand is completely fine," said Victorino, as he removed it from a bucket of ice water. "This amount of swelling is normal for me after any game. I just happened to get hit by a 93 mile-per-hour fastball, so everybody is freaking out. But I assure you, I am more than OK and will be able to play in Game 6."
Victorino said he may be a bit delirious from the amount of pain medication he is on, but he is very persistent in his claims that he will be ready to go tomorrow night.
"It's the World Series. I don't care if my hand looks like a balloon, that it turned these funny colors or that my middle and ring fingers are currently not functioning. I'm going to be out there."
The Phillies took another awful loss to the Yankees on Sunday and while several thousand things went wrong for the Fightins during the game, it may have been what didn't happen after the game that set Charlie Manuel off the most: Someone at Citizen's Bank Ballpark forgot to roll the tarp out onto the field.
"That's the catcher's responsibility in that situation," Manuel said of Carlos Ruiz, although several members of the grounds crew were spotted closer to the tarp with nothing else to do after the game. "He's faster than most of the grounds crew and I think he's got to know that when there's rain in the area, he's got to be the guy to make sure the field is covered at night."
Ruiz, who has only struck out five times in 93 career postseason at bats, will bat eighth again for the Phillies in Game 5 despite being one of the only hitters to lay off of balls thrown well outside of our planet's orbit on a consistent basis.
Criticized for years as a player that couldn't get it done in the postseason, Alex Rodriguez finally got it together in the first two rounds of this year's playoffs, hitting five home runs with 12 RBI in nine games against the Twins and Angels. However, A-Rod seems to have once again lost his swing after going 0-8 with six strikeouts in his first two World Series games against the Phillies.
"I just don't understand it," said a confused Rodriguez. "You spend all this money on flowers and anabolic steroids to keep your swing happy, and it just up and leaves you like this."
A-Rod was able to locate his swing on Saturday, but in the arms of a significantly less effeminate man.
"I just felt used," said the jilted swing. "I know the only reason he kept me around was to make him money. The bastard cheated on me before and even though he said it was just that one time and I forgave him, I know he was still messin' around on me. Now that I think about it, I have no idea what I ever saw in him in the first place."
Wyoming sports columnist Terry Moss has landed in hot water after proclaiming there may be an outside chance that the Phillies could possibly, maybe win the four games necessary to win the World Series.
Moss' column instantly set off a firestorm that led to his arrest and instant prosecution by the Wyoming State Supreme Court.
"We don't have any sports of our own to follow, so I thought I'd throw my prediction out there for the series," Moss said from his jail cell on Tuesday. "I followed both teams all year and thought the Phillies had a decent shot at repeating, so that's what I wrote. Would I write it again, knowing I'd be thrown in jail? [Expletive] yeah, I would."
Moss was convicted on all four counts of unbiased sportswriting, which carries a minimum 15-year sentence, though his defense team tried to excuse Moss' actions with an insanity defense, to no avail. The judge ultimately decided that Moss was a danger to himself and the baseball community with such heinous ideas.
Garrett Brookston, a 36-year-old Mets fan from Tuckahoe, New York is taking the Yankees-Phillies World Series match-up pretty hard. But he says that pales in comparison to the depression that comes from being a Mets fan.
"Yeah, it's going to be pretty tough to have to watch the Mets' biggest rivals play against each other in the World Series. I guess the match-up is only fitting, considering the absolute nightmare season we had to endure this year. Not to mention the late season collapses in previous years."
Despite the current depression, Brookston says he looks forward to what he hopes will be an active off-season for the Mets.
"Hopefully, we can sign some free agents that will help us compete with the Phillies for the division and maybe get to the Series and face the Yankees. It's just unfortunate that something in the water at CitiField will probably cause those free agents to get injured or just flat out suck as the Mets try to hold off the Nationals for fourth place. Man, I hate being a Mets fan."
The Phillies will make their second trip to the World Series in as many years and while most fans are once again overjoyed and totally hung over with Phils Phever, one fan can't seem to get into this most recent title run.
"I just can't get excited this time around," says nobody, a business manager from Doylestown. "It's like it happens every year now where someone steps up big every night to completely obliterate the heart and soul of some opposing team that everyone outside of this area wanted to see win instead of the Phillies. How is that exciting?"
Nobody went on to say that if the Phillies end up topping the Yankees for their third World Championship in franchise history and second straight World Phuckin Championship, that he may stop watching the Phillies altogether and follow the Philadelphia Union or something.
While almost everyone will be able to remember where they were when Jimmy Rollins created one of the most memorable moments in Philly sports history, one local man can't, for the life of him, recall where he was at the time.
"I want to say I was sitting somewhere in my kitchen, but we don't even have a TV in there," said Stephen Pastora of Ardmore. "I noticed that my couch was flipped upside down and there was a half-eaten sandwich stuck to the wall in my family room, so maybe that's where I was."
Rollins hit a two-out double off of Jonathan Broxton in the bottom of the ninth, scoring Eric Bruntlett and Carlos Ruiz to give the Phillies the 5-4 win and a commanding 3-1 series lead over the Dodgers in the NLCS.
"Jimmy came up huge for us when we really needed him," Charlie Manuel said after the game. "I don't think he's there yet, but if he works on getting on base a little more, he could win an MVP or two some day."
The Phillies will now face the Dodgers in a rematch of the 2008 NLCS after mounting a ninth inning comeback against what appears to be the most ridiculous mascot in the long and storied history of ridiculous mascots.
The Phillies were heavily favored coming into the series against the Barney & Friends refugee, but Carlos Gonzalez and Yorvit Torrealba gave it plenty of opportunity to douche it up in the stands by keeping the game close.
"I mean, I get that it's a triceratops, but what does a dinosaur have to do with the Rockies?" asked Game 4 hero Ryan Howard, who hit a two-run double with two outs in the top of the ninth to tie the game. "I know the Phanatic has nothing to do with Philly either, but he's got the benefit of being awesome and entertaining, so we all look the other way. That thing is just sad."