The New York Yankees announced that they have released 24 players from their 25-man roster, including perennial All-Stars Derek Jeter and Alex Rodriguez, to clear room for right-handed pitcher Bartolo Colon.
"Yesterday, we were informed by Major League Baseball that we could no longer get away with counting Bartolo as only one man," Yankees general manager Brian Cashman said. "Technically, we were supposed to release 57 men to account for Bartolo, but [Bud] Selig said he would cut us a break this time."
This marks the largest roster move in the organization's history since 2009 when the team was forced to clear out their entire minor league system to make room for a CC Sabathia rehab start.
As the war against Alex Rodriguez moves into its 35th year, President Obama asked the country to remain patient on Wednesday while paparazzi, Fox broadcasters and more than 135,000 U.S. troops work tirelessly day and night to find the Yankee wherever he is and piss him off.
The President's comments came three days after a successful campaign in Dallas, TX that sent Rodriguez into a blind rage after operatives successfully broadcast Cameron Diaz hand-feeding the insurgent some popcorn at the Super Bowl.
"While that was a job well done by our brave servicemen and women and pretty damn funny, this war is far from over," Obama said during a speech at the Pentagon about the war on Alex Rodriguez. "This she-man is our top priority and I assure you that we are out to get it. Along with the rest of the nation, we are completely obsessed with it and its every move."
Many critics of the war have called for more diplomacy in asking Rodriguez to just stop making himself such an easy target all the time, but previous attempts to reach out to the international fugitive have only resulted in even more autoerotic behavior.
Several countries have recently come to the aid of the U.S., including Rodriguez's native Dominican Republic, who have cut all ties to the insurgent and will send 3,000 soldiers to the U.S. to "make sure the insufferable little s-t never tries to enter [their] country again," according to a Dominican official.
After allowing the Yankees to play around with the idea of signing Cliff Lee for a few months, Phillies general manager Ruben Amaro snatched Lee from the Yankees mouth and commanded the team to sit like a good Yankees.
"Who's a good boy! Yes! You're such a good boy, aren't you!" Amaro said of New York, who really deserves a treat. "You gave up Cliff Lee all by yourself! Didn't you! Yes you did! You didn't try to fight me or anything because you know who daddy is! Yes you do! Yes you do!"
Sources indicate that while New York still has a CC Sabathia and an Alex Rodriguez to play with, they were seen wallowing around the house looking sad and incredibly pathetic.
A Virginia toddler made history on Wednesday as the youngest person to not give a damn about anything that Alex Rodriguez is doing or will ever do.
Eric Dalrymple, 3, reached the milestone after not giving a damn about Rodriguez becoming the youngest to ever hit 600 career home runs. With the feat, the toddler joins an active list of 6.5 billion people uninterested in anything relating to Rodriguez.
"He used steroids and is an enormous tool, so I'm not sure why hitting 600 home runs should mean anything to anyone," said Dalrymple, a teething infant.
"Cookie Monster! Ppppbbbbttttt!" added Dalrymple.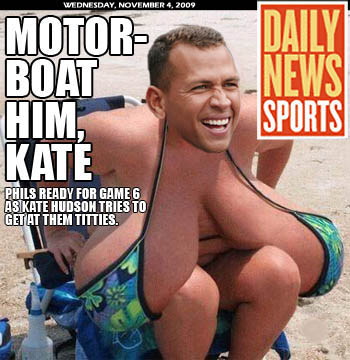 The New York Post ran a front page story today with Pedro Martinez in a diaper along with the headline "Spank Him, Yanks: Daddy to whup Pedro tonight." Naturally, the Philadelphia Daily News rolled out a similar story later in the day with Yankees star Alex Rodriguez relaxing in a beach chair.
The cover immediately caused controversy because of the way A-Rod's incredibly large breasts — or 'bitch tits' according to his former teammates -  were shown in the photo.
The Daily News removed the photo from its website, Philly.com, and pulled print issues from the shelves, but PhillyGameday.com was able to retrieve a copy beforehand (left).
EDITOR'S NOTE: If there were ever a time one team needed to bear down and play out-of-their-minds baseball, that time is now. I think just as important as it is for the Phils to win this series, it's just as important that the Yankees lose it. LET'S GET IT DONE PHILS!
Criticized for years as a player that couldn't get it done in the postseason, Alex Rodriguez finally got it together in the first two rounds of this year's playoffs, hitting five home runs with 12 RBI in nine games against the Twins and Angels. However, A-Rod seems to have once again lost his swing after going 0-8 with six strikeouts in his first two World Series games against the Phillies.
"I just don't understand it," said a confused Rodriguez. "You spend all this money on flowers and anabolic steroids to keep your swing happy, and it just up and leaves you like this."
A-Rod was able to locate his swing on Saturday, but in the arms of a significantly less effeminate man.
"I just felt used," said the jilted swing. "I know the only reason he kept me around was to make him money. The bastard cheated on me before and even though he said it was just that one time and I forgave him, I know he was still messin' around on me. Now that I think about it, I have no idea what I ever saw in him in the first place."
Raul Ibanez crushed a three-run homer in the top of the 10th inning to finish off the Mets 6-3 on Thursday, but his recent power surge is starting to raise eyebrows around the blogosphere.
Though it was originally suggested that Ibanez's numbers were steroid-aided, his statistics are now being manipulated to imply that he is not actually human. Well-respected bloggers have indicated that he may be a cyborg assassin sent from the future to destroy the souls of Mets fans before they all turn into unbearable douchebags come September.
"If you'll just take a look at some of the amazing stats I've compiled here, you'll see that I'm trying to insinuate that Ibanez is cheating by being a robot, but I've left myself just enough wiggle room to backtrack and act like I'm his biggest fan," writes an anonymous blogger from the wack-looking Midwest Tools blog. "It's the most honorable stance to take as a respected blogger, plus ESPN was dumb enough to have me on as some kind of expert, so it was pretty much a win-win for me."
Ibanez didn't take kindly to the accusations and even went so far as to leave a flaming bag of his stool on the blogger's doorstep for testing.
"Roger Maris turned into Babe Ruth when he put on a Yankee uniform but no one thought anything of it," said Ibanez. "I'm just out there having a good time, playing hard and doing my job. It's just kind of a dick thing to do to start trouble where there is none to begin with."
EDITOR'S NOTE: PhillyGameday.com would like to remind the viewing public that we live in a society where you are innocent until proven guilty and that we should leave the PED suspicion to the real jackasses of the game like Alex Rodriguez and Roger Clemens. Raul Ibanez is a stand up guy and should be treated as such. If he's found guilty of PED use, this website will be the first to jump on him and treat him like unwanted, shit-stained draws, but seriously . . . find something else to write about in the meantime.
Jamie Moyer lost another bid for his 250th career win in Monday's 5-3 loss to the Marlins, but inched closer to becoming baseball's all-time home run [given up] leader.
The fourth-inning jack by Wes Helms gave Moyer 477 for his career, 28 behind Phillies great Robin Roberts' 505 for the all-time record, which could fall later this season.
"If Moyer gets to 506, baseball purists may put an asterisk by his name in the record books," said ESPN's Buster Olney. "There's no doubt that his totals were inflated by steroid use, even if Moyer wasn't the one actually taking them."
Moyer has surrendered a slew of home runs to outed and suspected steroid users over the years including Manny Ramirez (10), Alex Rodriguez (6), Barry Bonds (5), Rafael Palmeiro (5), Brady Anderson (5), Juan Gonzalez (4) and Lenny Dykstra (1).
Meanwhile, Roberts was lit up by a far more respectable bunch, including Duke Snider (19), Hank Aaron (9),  Jackie Robinson (9) and the ever-dangerous Wally Moon (9).
"I can't help that every record nowadays has steroids attached to it," said Moyer. "Did a lot of my home runs come from the bats of known steroid users? Yes. Could I allow 500 home runs without them? Probably."
Manny Ramirez will be suspended for 50 games after using a women's fertility drug prescribed by his doctor. The Dodgers outfielder has apparently struggled alongside countless other women in this country with pregnancy issues, which places Ramirez on the growing list of major league players now known to have lady bits.
Ramirez has repeatedly denied use of any performance enhancing drugs, but will not appeal the suspension and subsequent loss of $7.7 million in salary "out of respect to the system, and let's be real here … I was gonna hang it up for at least 50 games this season anyway, so it kinda works out," according to Ramirez.
Alex Rodriguez was also recently caught with his vag showing by denying steroid use on national television in 2007 and admitting to steroid use on national television two years later this past February.
Rodriguez and Ramirez are only part of a larger, growing list of high-profile athletes that have traded in their jocks for tampons, including Barry Bonds, Roger Clemens, Rafael Palmeiro, Sammy Sosa and Mark McGwire. Each player was once thought to be a first-ballot Hall of Famer, but will now be denied entrance by baseball writers due to their lack of any semblance of male reproductive organs.
"These guys masqueraded around for years like they were in the same boat as greats like Mays, Aaron and Ted Williams, but one by one we're finding out the truth about these frauds," said LA Times writer Bill Plaschke. "It's not so much the fact that they have snatches that really bothers me about it … just the fact that they lied about it this whole time, you know what I mean?"
Albert Pujols is expected to be named to the list in the coming days or years, at which time Major League Baseball will officially be forced to erase 96.2% of its record book from 1994 to 2007.
A source close to  Alex Rodriguez said that the ongoing coverage of his steroid use and recent allegations have nearly pushed him over the borderline and that, at times, he feels like he's "going to lose his mind."
According to a new book by Sports Illustrated writer Selena Roberts, Rodriguez took steroids in high school and was nicknamed "B—h T-s" by Yankee teammates in 2005, referring to his round pectorals that he developed from gaining 15 pounds during the off-season.
"You just keep on pushing him…don't you know you're driving him crazy," said the anonymous Grammy Award-winning source. "It's time for the good times…forget about the bad times, oh yeah."
Rodriguez is currently in Tampa, FL rehabbing a likely roids-induced hip injury. When asked for a reaction to the allegations that he miraculously increased his bench press from 100 to 310 pounds in a matter of six months as a high school senior, he responded, "I'm not going there."
"I already read that bull-I mean, I already came clean about my steroid use," Rodriguez added. "You'll have to wait until I get caught red han-I mean, I'm just through talking about this."