As someone that came up in the early-90s, I have a special place in my heart for the top pitchers of that era: Greg Maddux, Curt Schilling, Pedro Martinez and the now retired Randy Johnson. Sorry Roger Clemens fans (all three of you), but this is a douchebagless list I'm running here.
I'm not sure we'll ever know if what we saw out of that group was "un-enhanced", but all I do know is Randy Johnson led that group with some of the most ridiculous stats this game has ever seen, post-integration (and I say post-integration because I'm not impressed by what Walter Johnson and Christy Mathewson did against a segregated population). And even if The Big Unit was roided out of his mind, the man struck out 372 equally roided-up guys in 2001 on the way to winning the World Series.
If it weren't for the strike-shortened seasons of 1994-95 and battling injuries in 1996-97, Johnson could have had 10-straight years with 300+ strikeouts. As it stands, he still hit that mark in six of the those seasons and had 294 and 291 in two other seasons during that span. In other words, the man was a pitching god.
Of course, most folks in Philly will remember Johnson for making John Kruk shart in his pants a little during the 1993 All-Star Game. Just by watching that video again makes you think that standing in there against Johnson must have been like you or I standing in there against an average major leaguer. That's just how dominating this guy was for most of his career: He turned major league hitters into bloggers.
It looks like Pedro's all we have left, and it was a pretty nice treat to have him pitch in this town while he did, even if he couldn't get us past the Yanks. I'd love to see him back here, but he's definitely the last holdover from a time when pitchers were somehow putting up video game numbers on the mound against hitters with video game numbers at the plate.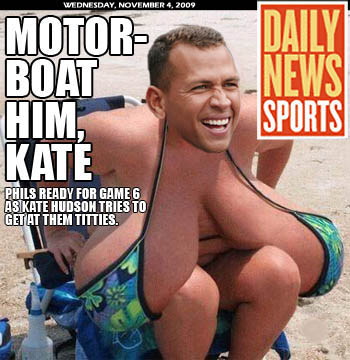 The New York Post ran a front page story today with Pedro Martinez in a diaper along with the headline "Spank Him, Yanks: Daddy to whup Pedro tonight." Naturally, the Philadelphia Daily News rolled out a similar story later in the day with Yankees star Alex Rodriguez relaxing in a beach chair.
The cover immediately caused controversy because of the way A-Rod's incredibly large breasts — or 'bitch tits' according to his former teammates -  were shown in the photo.
The Daily News removed the photo from its website, Philly.com, and pulled print issues from the shelves, but PhillyGameday.com was able to retrieve a copy beforehand (left).
EDITOR'S NOTE: If there were ever a time one team needed to bear down and play out-of-their-minds baseball, that time is now. I think just as important as it is for the Phils to win this series, it's just as important that the Yankees lose it. LET'S GET IT DONE PHILS!
Charlie Manuel answered questions on Friday about his decision to go with potential Game 3 starters Joe Blanton and J.A. Happ out of the bullpen after Cole Hamels — who apparently couldn't wait until February to knock his wife up — left after five innings in the 5-4 loss to the Rockies.
Some have said Manuel brought in his starters because he no longer trusts anyone out of the bullpen.
"Everybody says I don't trust my bullpen and that's just not true," Manuel said. "Just because I don't want them anywhere near my wife or to pitch in a game ever again doesn't mean I don't trust them with other things…like driving to the ballpark and dressing themselves."
Though Blanton and Happ's use in Game 2 doesn't prevent either from starting Game 4, it does mean that Pedro Martinez will start for the Phillies on Saturday for Game 3. It also means that Kyle Kendrick and/or Brad Lidge's spot on the playoff roster could have been filled by John Mayberry Jr., who could have pinch run on Thursday instead of risking Cliff Lee with the game on the line.
Manuel also suffered a mild stroke in the seventh inning when he was forced to bring in Scott Eyre to replace Happ, who took a line drive off of the leg and had to leave the game.
"It's not that I won't use the guys from the 'pen," Manuel explained on Friday. "They're just last on my list after I've used the starters and asked all 46,000 or so fans if they want to take a crack at it first."
Pedro Martinez followed up his highly-anticipated Phillies debut on Wednesday with a controversial, yet silky-smooth move that has Cole Hamels up in arms.
Martinez, who won his first major league start in over 10 months, got an early jump on his endorsement and signed on to become the new spokesman for Soul Glo. The pairing of Martinez with Jheri curl activator may be the most natural sponsorship match since Fred and Barney peddled Winston cigarettes on the Flintstones.
The deal isn't sitting well with Hamels, who is considered the banquet-circuit ace in the Phils clubhouse.
"It's one thing for him to come in here and outpitch me and knock me down in the rotation, but no one's gonna get more face time than me…no one," said an irate Hamels as he attempted to throw a chair across the room, but it ricochetted off of the wall past him for a solid single. "Pedro doesn't know what he's up against."
Jamie Moyer was visibly ornery against the Cubs on Tuesday as he had lost both his reading glasses and his spot in the rotation in a span of five minutes.
"I know these things don't just sprout legs and walk away," Moyer repeated several times as he tore through the Phillies' visiting clubhouse. "They have to be around here somwhere."
Scott Eyre eventually gestured to Moyer that his glasses had been on his head the entire time but had no such answer for his lost rotation spot.
"I've had that thing for over 16 years now," said Moyer of his valued spot. "The real kicker is that I honestly have no clue how or when I lost it either. I just hope no one stole it."
Pedro Martinez was reportedly seen strutting around the field on Wednesday with a spot that looked very similar to the one once ownd by Moyer.
"I didn't steal anything from anybody," said Martinez. "I got this spot from Ruben [Amaro], so you'll have to ask him where he got it."
The mere thought of adding Roy Halladay to the defending World Champions' roster has left some Philadelphians waist-deep in their own slobber and without power last night.
The situation in the Delaware Valley may get worse before it gets any better as more and more fans realize just how freaking incredible the Phillies would be with Roy Hall-of-Fame-some-a-day atop their rotation.
"I was out at P.J. Welihan's with my boys talking about the whole Halladay situation," said Ryan Billings, a South Jersey Phillies fan. "The next thing we know, everybody in the bar is talking about it and we're all wallowing in our own saliva. Sounds really gross, but we didn't really care. We just want Halladay."
Halladay would give Phils fans the opportunity to look back 10 years from now and say they witnessed not only the greatest team in franchise history, but possibly one of the greatest in major league history.
By 2019, Chase Utley will have officially become the greatest second baseman to play the game. Ryan Howard will be the most prolific home run hitter since Babe Ruth. Jimmy Rollins will have punched his ticket to Cooperstown with his 3,000th career hit. The rotation of Roy Halladay, Cole Hamels, Joe Blanton, Jamie Moyer and Pedro Martinez may end up with the largest career win totals of any rotation ever. Jayson Werth will have his own statue in front of The Bank, capturing his signature strikeout, fall-on-one-knee swing and best of all, the Phils will have won back-to-back World Series and quite possibly an unprecedented twelve-peat.
EDITOR'S NOTE TO PHILLIES FRONT OFFICE: Stop farting around and get this done.
The Phillies have announced the signing of Pedro Martinez's old glove and a couple baseball cards, which is all that seems to remain from Martinez's glory days.
Once the most dominant pitcher in the game, Martinez struggled in his last year with the Mets with a 5-6 record and a 5.61 ERA in 2008. However, the remnants of Martinez are hopeful to provide some value to the Phils in the final months of the season.
"We knew going into this process that we weren't getting the Pedro Martinez of old," said Ruben Amaro at the press conference. "I think we're satisfied in getting our hands on his game glove and a signed rookie card that may be worth a couple bucks at some point. People still buy baseball cards, right?"