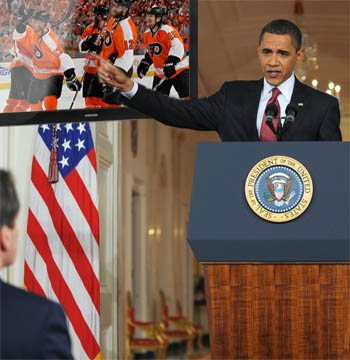 Efforts to contain the Philadelphia Flyers' epic run through the NHL suffered a major setback on Monday, meaning the team could continue destroying everything in its path for days, and possibly weeks.
Canadian hockey players were brought in to help suppress the Flyers' intensity, but after only minutes on the job, it was evident that the Montreal club had no clue what they were doing.
President Obama pledged Tuesday to "use every single available resource" and the U.S. military ratcheted up preparations to help contain the Flyers.
"We sent in Martin Brodeur, and that didn't work," Obama said of the previous attempts to stop the Flyers. "Then we throw the Bruins at them and just when we thought that worked, it didn't work. We only have a few more days to stop them before they reach my Chicago Blackhawks, then all hell will break loose."
Obama has not ruled out using military action against the Flyers, but according to the President, "the way those guys play with half of their face missing, I'm not sure our military would even make a difference."
The Phillies were finally able to fit in their trip to the White House on Friday and no one was more excited for the day's arrival than Chris Coste.
In the days leading up to the visit, Coste posted daily countdown reminders on each players' locker and would randomly scream 'Obama!' and 'Change!' into unsuspecting teammates' ears.
"We thought he was just messin' around at first," said Pedro Feliz. "But the yelling, singing and all-around drunken excitement for Obama just got worse."
Team doctors felt it best to sedate Coste with a healthy plate of soul food before the White House visit for his own safety as well as the president.
"To the outsider, it may look like he was dragged there against his will because he voted for the 'other guy', but that's not the case at all," said Chad Durbin. "Believe me, Costie's the president's number one fan."
Carlos Ruiz raised his batting average by nearly 100 points in two days after turning in back-to-back 2-for-2 performances.
Ruiz entered Wednesday's contest with a .161 average and left Thursday's game with a robust .257 mark. 'Chooch' also walked twice in each game, which raised his OBP from .278 to .409.
Teammates have noted that the seemingly insignificant streak has started to affect Ruiz's clubhouse behavior.
"He's going around asking everybody what their batting averages are over the past two games," said Ryan Howard, who happens to be batting .000 in that period. "And before you can get it out, he's like 'No one cares 'cause it's definitely not 1.000 like mine is'."
Jimmy Rollins, who responded with a 1-for-5 night after being placed back in the leadoff spot, also felt the sting of Ruiz's braggadocio after Thursday's game.
"I was really about to go upside Chooch's head a minute ago," Rollins said. "He said something like 'Dawg . . . can you remember the last time one of these raggedy-ass pitchers actually got me out? 'Cause I just can't seem to recall.'"
In the latest World Series-related distraction that the Phils really don't need, the team visited President Obama at the White House today and will take on the Nationals tonight at 7:05. Joe Blanton will try and get the Phils back in the win column as he faces off against John Lannan.
The North Carolina Tar Heels pulled off the unforeseen public annihilation of the Michigan State Spartans on Monday night by a score of 89-72. The Tar Heels took an NCAA championship game-record 55 points into halftime and could have easily dropped a good 150 points on the Big Ten 'powerhouse' Spartans, but kept the massacre to a minimum out of respect for the reeling Michigan crowd.
The Tar Heels received praise from President Obama following the win for helping him dominate his White House office pool and "totally stick it to [Defense Secretary] Robert Gates."
"The Tar Heels did a fantastic job of waxing the floor with the Spartans," Obama said. "I can't help but feel like I contributed to the win by practicing with them during the [presidential] campaign. It gave them a good heads up to how a team like the Spartans would play ball…and it looks like it paid off."
Ryan Howard and the Phillies exchanged salary arbitration figures on Tuesday with Howard asking for $18 million. The Phillies offer of $14 million would give Howard a $4 million pay raise, but news has surfaced that Phillies GM Ruben Amaro Jr. has also offered the commemorative Special Edition Barack Obama DVD in hopes of swaying the arbitration panel.
"Being able to re-live the November election and Tuesday's inauguration is priceless," said Amaro. "I almost feel like now that the DVD is on the table, we've tipped the scales too much and now Ryan has the upper hand."
The Phillies also reached an agreement with Chad Durbin today, on a one-year contract worth $1.65 million, avoiding arbitration. Durbin's deal also included the same Obama DVD involved in the Howard arbitration case.
"Yeah, it was completely bootleg," Durbin said. "It was just Ruben [Amaro Jr.] literally holding a video camera up recording CNN coverage."