US government steps up effort to contain Philadelphia Flyers
By Zaki, PhillyGameday.com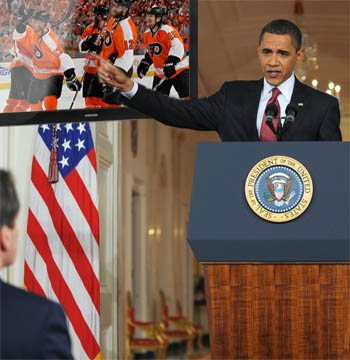 Efforts to contain the Philadelphia Flyers' epic run through the NHL suffered a major setback on Monday, meaning the team could continue destroying everything in its path for days, and possibly weeks.
Canadian hockey players were brought in to help suppress the Flyers' intensity, but after only minutes on the job, it was evident that the Montreal club had no clue what they were doing.
President Obama pledged Tuesday to "use every single available resource" and the U.S. military ratcheted up preparations to help contain the Flyers.
"We sent in Martin Brodeur, and that didn't work," Obama said of the previous attempts to stop the Flyers. "Then we throw the Bruins at them and just when we thought that worked, it didn't work. We only have a few more days to stop them before they reach my Chicago Blackhawks, then all hell will break loose."
Obama has not ruled out using military action against the Flyers, but according to the President, "the way those guys play with half of their face missing, I'm not sure our military would even make a difference."
Zaki is the Chief Rocka and senior writer for PhillyGameday.com and thinks you should hurry up and follow the site on Twitter and Facebook before it's too late.