Cliff Lee helped his cause in maintaining his spot in the Phillies rotation on Monday by hurling seven shutout innings against the Dodgers with 10 strikeouts.
Charlie Manuel said that Lee's impressive start earned the former Cy Young winner another turn in the rotation, but another bad outing could mean a demotion to the bullpen, or worse.
"I don't know what this guy's problem is, but he better fix it quick," Manuel said of Lee, who currently leads the majors in strikeouts with 100. "This last start saved his ass, but I don't know how much longer I can put up with him and his 3.62 ERA or whatever it is right now."
Team sources indicate that the Phillies currently have a deal in place to trade Lee back to the Mariners for another trio of can't-miss prospects in the event that Lee allows a hit in his next start.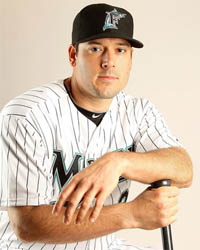 Hello again fans! Greg Dobbs here doing some pinch-blogging (heh, see what I did there?) about the Phillies' chances to overcome the loss of Greg Dobbs and continue their run atop the NL East.
The Phillies current run of four-straight division titles began back on January 15, 2007, when the Phillies re-affirmed their commitment to winning by claiming Greg Dobbs off waivers from the Seattle Mariners.
The rest — as they say — is history.
Greg Dobbs led Philadelphia to its first playoff appearance in 13 years, its first division title in 24 years and its first World Series title in 28 years. Greg Dobbs was enjoying all the success he brought to the team and thought the ride would never end.
But Greg Dobbs was wrong.
On October 28, 2010, the Phillies decided that they didn't need Greg Dobbs anymore and let Greg Dobbs file for free agency. As you may remember, this move sparked major outrage by the Phillies fanbase, which led to the team signing Cliff Lee two months later in a desperate attempt to replace Greg Dobbs.
Will the signing of Cliff Lee and the formation of the supposed greatest rotation in the history of the game be enough to overcome the loss of Greg Dobbs? Greg Dobbs thinks anything is possible, but Greg Dobbs wouldn't put his money on it.
Greg Dobbs isn't very impressed by the offseason moves by the Nationals and Braves and doesn't think the Mets will still be a team by June, but the Marlins have the one thing that the Phillies don't have, and that's Greg Dobbs.
A fifth division title isn't out of the question for the Phillies and Greg Dobbs has definitely seen stranger things happen before, but Greg Dobbs would definitely recommend trading for Greg Dobbs at some point during the season if the team is still committed to winning games.
Hopefully the Phillies will at least stay competitive this season, but without Greg Dobbs, Greg Dobbs just doesn't see that happening.
Following Tuesday's arrest in Los Angeles for making criminal threats against an unidentified woman, Mariners outfielder Milton Bradley was ordered by a judge to lecture children on the many dangers of being anywhere near him.
"It's not a game out there, children. Your lives are in danger even as I speak," Bradley warned a group of students at Belvedere Elementary School in Los Angeles. "I'm standing in front of you right now to warn you that you should never, ever, under any circumstances, let me stand in front of you."
Bradley concluded the assembly by brutally assaulting a nearby custodian to further illustrate the dangers of even looking at him the wrong way.
On a day when the Phillies officially introduced Roy Halladay during a press conference, Wednesday's talk seemed to center around the trade that sent Cliff Lee to the Mariners for assorted pieces of candy.
Many Phillies fans felt like the team should have tried to keep both Lee and Halladay in the rotation, but Phillies general manager Ruben Amaro characterized the Lee deal as a necessity for the organization's lobby stash.
"We could have kept both of them," Amaro said of Halladay and Lee during Wednesday's press conference. "But it was a baseball decision for me and our organization. We could not leave our candy bowl bare."
With the team's recent offseason activity, people have been in and out of the lobby at Citizen's Bank Park taking all of the Hershey's Nuggets and Snicker's Bars, with nothing left but a couple Circus Peanuts and Mary Jane's. Amaro maintains that the Lee deal was his best shot at getting back some solid stuff for future visitors.
"If we held onto Lee for this season and lost him to free agency, there's no telling what kind of stuff we'd get for him in the draft," Amaro said of the compensation candy the Phillies would receive for losing Lee after the season. "If we let him go as a free agent and end up with some butterscotch in return, then we're screwed. It's my job to maintain a delicious stash of treats in our lobby, even if that means giving up the ace that would make our team the most unstoppable force this world has ever known. But a World Series title with Charleston Chews in your bowl does no one any good."
Phils dealt Lee to replenish prospects [Philly.com]