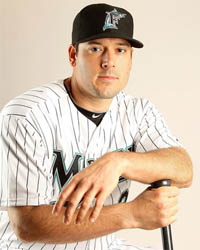 Hello again fans! Greg Dobbs here doing some pinch-blogging (heh, see what I did there?) about the Phillies' chances to overcome the loss of Greg Dobbs and continue their run atop the NL East.
The Phillies current run of four-straight division titles began back on January 15, 2007, when the Phillies re-affirmed their commitment to winning by claiming Greg Dobbs off waivers from the Seattle Mariners.
The rest — as they say — is history.
Greg Dobbs led Philadelphia to its first playoff appearance in 13 years, its first division title in 24 years and its first World Series title in 28 years. Greg Dobbs was enjoying all the success he brought to the team and thought the ride would never end.
But Greg Dobbs was wrong.
On October 28, 2010, the Phillies decided that they didn't need Greg Dobbs anymore and let Greg Dobbs file for free agency. As you may remember, this move sparked major outrage by the Phillies fanbase, which led to the team signing Cliff Lee two months later in a desperate attempt to replace Greg Dobbs.
Will the signing of Cliff Lee and the formation of the supposed greatest rotation in the history of the game be enough to overcome the loss of Greg Dobbs? Greg Dobbs thinks anything is possible, but Greg Dobbs wouldn't put his money on it.
Greg Dobbs isn't very impressed by the offseason moves by the Nationals and Braves and doesn't think the Mets will still be a team by June, but the Marlins have the one thing that the Phillies don't have, and that's Greg Dobbs.
A fifth division title isn't out of the question for the Phillies and Greg Dobbs has definitely seen stranger things happen before, but Greg Dobbs would definitely recommend trading for Greg Dobbs at some point during the season if the team is still committed to winning games.
Hopefully the Phillies will at least stay competitive this season, but without Greg Dobbs, Greg Dobbs just doesn't see that happening.
The Phillies medical staff confirmed that Greg Dobbs remains in perfect physical health and said it was "cool" if he started swinging the bat and hitting baseballs again.
Dobbs is one of the few Phillies not to spend time on the disabled list this season, but the team wanted to have the pinch hitter checked out just so they could rule out an injury as the cause of his .191 batting average.
"We gave Greg the green light to resume hitting the way he did back in 2008," said one team doctor. "We also medically cleared him to take a freaking pitch every once in a while and to use his glove to field balls while at third base."
Despite the medical clearance, Dobbs is unsure if he is ready to start swinging a bat again.
"Greg Dobbs knows his body better than these doctors do," said an agitated Dobbs. "Greg Dobbs will start hitting when Greg Dobbs is good and ready."
UPDATE: Greg Dobbs was actually designated for assignment hours after this story was posted. We at Philly Gameday promise to only use our powers to get players DFA'd on a limited basis in the future.
Hello fans! It's Greg Dobbs, your favorite pinch hitter and corner infielder, ready to fan the flames of the growing "Is Greg Dobbs a Hall of Famer?" debate.
Greg Dobbs knows you're probably wondering 'how is this even up for debate?' and Greg Dobbs couldn't agree with you more. But, believe it or not, there are people out there walking the streets that believe the Hall of Fame is no place for Greg Dobbs. It's as if they've never seen Greg Dobbs play before.
While Greg Dobbs could easily talk all day about why the Hall of Fame needs Greg Dobbs, Greg Dobbs will let the numbers do the talking.
1. Greg Dobbs' career .264 batting average is higher than Luis Aparicio, Gary Carter, Reggie Jackson, Harmon Killebrew, Rabbit Maranville, Bill Mazeroski, Ozzie Smith and this guy Joe Tinker, who are all in the Hall of Fame. If Greg Dobbs is a better hitter than Mr. October and the Wizard of Oz, then why doesn't Greg Dobbs have a cool nickname? And more importantly, why isn't Greg Dobbs in the Hall of Fame?
2. Phillies great Richie Ashburn hit 29 home runs in his Hall of Fame career. Do you know who else has hit 29 home runs in his career? That's right. Greg Dobbs. Give Greg Dobbs a few more low pressure game situations and Greg Dobbs will pass Richie in no time.
3. Greg Dobbs finished the 2006 season with an amazing .370 batting average for the Seattle Mariners. Do you know how many Hall of Famers never hit .370 in a season? So-called 'Hammerin' Hank Aaron never hit .370 in a season. George Brett, arguably one of the greatest hitters of all time, only hit .370 or better once in his career. That's right. The same number of times as Greg Dobbs.
The numbers don't lie.
Greg Dobbs could provide several hundred more reasons why Greg Dobbs should be a surefire first-ballot Hall of Famer, but Greg Dobbs has to go work on his hitting. As much as the fans think Greg Dobbs' talent comes naturally, it takes a lot of hard work and determination to do what Greg Dobbs does.
See you in Cooperstown!
Just days after he held a closed-door meeting with his team to discuss their current hitting woes, Phillies manager Charlie Manuel held a second meeting on Friday to figure out what kind of person just walks off with the remote.
According to members of the team, Manuel repeatedly talked about "how ridiculous this is" for about 30 minutes and then reminded everyone for an additional 20 minutes that "it's one of those TVs without any buttons, so it's completely useless without the remote."
Manuel met with GM Ruben Amaro on Saturday to discuss possible roster changes as a result of the lost remote. Though no moves have been made yet, Manuel hinted that Greg Dobbs' job may be in jeopardy, but added that "it has nothing to do with the fact that he's one of baseball's worst players right now. I just think he's the one that lost the damn remote."
The Phils are starting to look like they have a 'type'.
Not that there's much variety when it comes to bench players, but Ross Gload is about as close to a Greg Dobbs clone as you can find in baseball. Of course, before Dobbs, Wes Helms held it down as the Phillies' average-hitting corner infielder/outfielder for one season.
This isn't a bad move from Rube, even though Gload's average has sunk each of the past four seasons. Then again, I don't know how motivated I'd be playing for the Royals for two of those seasons either.
He'll take Matt Stairs' place on the bench — which right now looks like an upgrade — and is cut from that professional hitter mold of guys that put the ball in play (a la  Jim Eisenreich), doesn't strike out much and seems to hit better with runners in scoring position which will always win points with fans on this team.