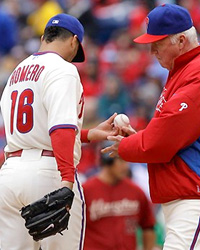 Baby, I know I did some things to hurt you, but you know we belong together. And you know that I'm right.
This thing we had between us was something special, sweet baby. Since you let me go, all I do is sit around with my head hangin' down and think about all the times I hurt you.
But, baby, I never meant to cause you no pain. Please forgive me for all the wrong I've done.
I know you put all your trust in me and I'm sorry I let you down. But right now, I'm gonna swallow my pride, say I'm sorry, stop pointing fingers because the blame is on me.
I was a fool to let another man step in and take my place, but I don't blame you, my sweet baby. I did you so wrong.
But, you know he can't love you the way I did. If you ever want to leave him, I'll be right here waiting 'till my dying day. I want to make things right.
I'll never walk again until you come back to me. I'm down on bended knee.
Phillies relief pitcher J.C. Romero was bailed out of yet another late-inning jam on Wednesday after walking 62 consecutive batters before David Herndon came in to record the final out of a scoreless 7th inning, stranding all 62 runners on base.
"He seems to get himself into these jams all the time, but I don't mind putting him out there again because he always finds a way to let someone else bail him out," said manager Charlie Manuel. "Plus, I'm not ready to give up on J.C. just yet. You know what I always say: 'If it ain't broke beyond any hope of repair, just keep sending it out there.'"
By recording one out before walking the 62 consecutive batters and getting bailed out for the 18th time in 18 appearances this season, Romero was able to lower his ERA from 3.86 to 3.75.
The Phillies announced Tuesday that they were still coming to terms with the fact that they had signed J.C. Romero to a one-year deal on Monday.
Romero, who threw 17 strikes over 36.2 innings last season, was the Phillies' final option for a left-handed reliever after every other available pitcher had signed with another team.
"We're still trying to make some sense of what just happened," Phillies general manager Ruben Amaro said of signing Romero, who you could swear had a 67.00 ERA last season, but was somehow only 3.68. "Are you sure the Astros didn't sign him? It just seems like they would have signed him by now. No? OK, so it was definitely us. Hmmm…that's not good."
Terms of the deal were not disclosed, but team sources said that Romero could earn up to $37 billion in incentives if the pitcher were to retire two consecutive batters at any point during the season.
I'm confused.
I checked this morning and I have the ERA of a man that occasionally throws strikes and gets hitters out, but that's impossible since I do neither of those things. No, really. It's literally impossible.
Think about it: When is the last time I pitched without walking the bases loaded and/or giving up a two- or three-run home run to the worst hitter on the team? Never, right? I know! That's why this is so bizarre.
It just makes no sense that after walking a pitcher, my ERA should be at least 15.00 or so. I mean, not only was he a pitcher, but it was his first time ever facing a major league pitcher in a game, and I walked him. And my ERA is still 4.38. How? I'm not even kidding. I want to know how that's possible.
Am I the only person that thinks this is pretty crazy? Am I losing it? Am I the only one paying attention when I'm up on the mound walking and beaning guys?
Ever since I came back from my 50-game sabbatical last season, I've walked 36 guys in 41.1 innings and it says I have a 3.70 ERA over that span. I'm a walking, talking contradiction: A pitcher that can't throw strikes, but has a better ERA than half the league.
Someone's trying to get over on old J.C., that's what this is. Ha, ha, very funny guys. Well, I'm not falling for it. I may not know what my ERA is, but I know it's not 4.38.
Danys Baez is set to take a physical and finalize his two-year deal with the Phillies this week, which may be the last significant move the Phils make this offseason, according to Todd Zolecki. Apparently, Ruben Amaro may still sign a couple muppets and your uncle Jimbo, but the days of signing "significant" talent like Danys Baez and his 4.04 career ERA may over with. In other words, get ready for another ride on The Bullpen. Scares the bageezus outta me.
I thought I'd compare this year's bullpen to last year to see if we've gained any ground at all so far, so here goes nothin':
Closer: No change. Brad Lidge posted a 7.21 ERA and netted 20 saves (31 saves minus the 11 he blew) as the closer for the eventual National League champs. Let's put it this way: I don't think it's possible to repeat the worst closer performance in the history of closers, so I'll say we improved slightly no matter what happens. Charlie can't throw him out there the way he did last year if the struggles continue, right? Anybody wanna back me up on that and make me feel better?
Setup: Ryan Madson stays. Scott Eyre and Clay Condrey combined for a 2.38 ERA over 72 innings for the Phils last year and as of right now, neither will not be back for 2010. J.C. Romero returns and it looks like Baez will join him and Madson as the go-to guys in the latter innings. Romero and Baez combined for a 3.77 ERA last season in 88.1 innings, with only 16.2 of those coming from Romero. J.C.'s coming off of an injury and a long layoff, so I wouldn't expect him to be the shut-down reliever we're used to. Baez is coming from the AL East, so it's possible he could look better in a Phils uniform than what he did last year with the Orioles.
Overall, I'd say 2.38 is lower than 3.77, so it looks like we had a better crew setting things up for impending disaster (Lidge) in 2009 than we currently do.
The Rest: Chad Durbin stays. Chan Ho Park, Tyler Walker and Jack Taschner combined for a 3.30 ERA over 114.2 innings and if it wasn't for "Take out the" Taschner, that ERA would be a lot lower. As of right now, that group is gone, and likely replaced with some combination of Antonio Bastardo (6.46 ERA in 6 games), Drew Carpenter (11.12 ERA in 3 games), Sergio Escalona (4.61 ERA in 14 games) and Mike Zagurski, who posted a 3.57 ERA in 45 games at Double-A Clearwater last year.
I'd say this year's bunch might make us beg for the '08 and '09 versions that we took for granted.
Overall, this year's bullpen is essentially the opposite of what you'd want from a team that is supposed to contend for a World Series championship: A closer coming off a miserable season and very little depth with inexperienced middle relievers.
One good sign is that last year's horrible bullpen turned it around about when Cliff Lee came on board and consistently pitched deep into games, saving the pen. Halladay should do that even better than Lee, and this time, for a full season.
What happens when you pair a recently suspended major league pitcher with a drunken fan from an opposing team? One outrageously bad decision after another.
Following a Phillies road game against Tampa Bay, an avid Rays fan (played by Some Drunk Guy) is denied an autograph request from Phillies pitcher J.C. Romero that inevitably leads to side-spiltting shenanigans.
Will Romero learn his lesson to let drunk guys do what they do best (pop off at the mouth)? Will 'Some Drunk Guy' grow a pair and accept responsibility for what happens when you pop off at the mouth to a large human being? Stay tuned . . .
The Phillies dropped another home game, this time to the Blue Jays in an 8-3 extra-inning bullpen meltdown. The loss gives the team a 13-17 record at home compared to their major league-best 23-9 record on the road.
Despite their continued headaches at home, players like J.C. Romero and Clay Condrey have still managed to stay positive in an almost Bob Ross-like way.
"Bob Ross was a pretty cool guy and you can learn a lot from watching his old shows," Condrey said after the game. "You'll learn that allowing five runs in 1/3 of an inning isn't really a 'mistake', just a happy little accident."