A 640-pound Philadelphia man cited a lost remote and "that damned David Herndon on [his] TV" as the reasons for rising out of bed for the first time in over 16 years on Thursday.
Kevin Perone, who last stood on his own legs in 1995 and stayed in bed while his house briefly caught fire in 2003, said that he could no longer "just sit there and watch David Herndon."
"I didn't know I had the strength to do that," Perone said of dragging his 640-pound frame across the room to save himself from watching Herndon take the mound. "But I guess when the going gets tough, the tough get going, right?"
Perone said that Herndon not only inspired the 640-pound man to become mobile, but the Phillies pitcher also inspired him to pursue a career in professional baseball.
"If Herndon can do it, then I think have a pretty good shot," Perone added.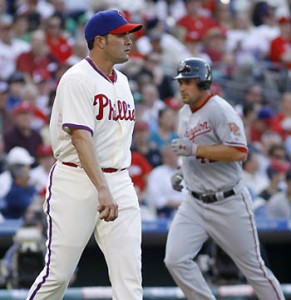 Phillies reliever Danys Baez has begun to loosen as a result of what appears to be a prank call to the bullpen made by manager Charlie Manuel in the top of the seventh inning.
"Get Baez ready," Manuel reportedly joked to head coach Mick Billmeyer. "We need him in the game, ASAP."
According to dugout sources, Manuel is ready to continue the charade by bringing Baez into the game to pitch to several batters while he makes a second prank call to have David Herndon get loose.