Danys Baez warming up after apparent prank call to bullpen
By Zaki, PhillyGameday.com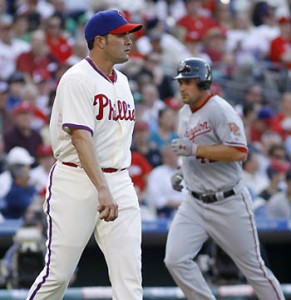 Phillies reliever Danys Baez has begun to loosen as a result of what appears to be a prank call to the bullpen made by manager Charlie Manuel in the top of the seventh inning.
"Get Baez ready," Manuel reportedly joked to head coach Mick Billmeyer. "We need him in the game, ASAP."
According to dugout sources, Manuel is ready to continue the charade by bringing Baez into the game to pitch to several batters while he makes a second prank call to have David Herndon get loose.
Zaki is the Chief Rocka and senior writer for PhillyGameday.com and thinks you should hurry up and follow the site on Twitter and Facebook before it's too late.