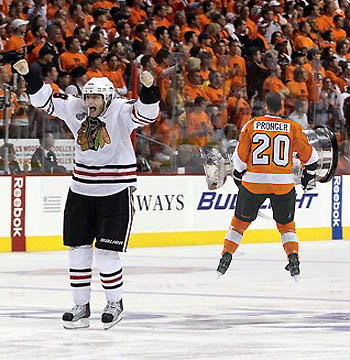 Flyers defenseman Chris Pronger has bucked hockey tradition once again by swiping the Stanley Cup Trophy while everyone was either celebrating or too wrought with devastation to notice.
Pronger, who also nabbed the game pucks at the end of Chicago's first two wins of the Stanley Cup Final, downplayed the incident following the Flyers 4-3 overtime loss to the Blackhawks on Wednesday.
"It's just a cup. I don't know what everybody's so worked up over," said Pronger. "If they wanted it so bad, they should've taken it instead of celebrating like jackasses."
When asked what he did with the 108-year-old Holy Grail of sports trophies, Pronger replied, "it's in the garbage…where it belongs."
The Flyers crawled back from a three-game deficit to eliminate the Bruins in Game 7 of the Eastern Conference semifinals and secure a historic comeback to the front page of the Philadelphia Inquirer.
Simon Gagne scored the game-deciding goal with 7:08 left in the third period, which led to the Flyers' first appearance on the front page of a major news outlet since 1903.
"Everyone counted us out after we couldn't make it to the front page for the 13,505th straight time," said Danny Briere. "But here we are. The single greatest comeback in the history of sports. It's a good feeling. What's that? The Phillies just took over the front page from us? Son of a…"
The Flyers destroyed the Canadiens 6-0 in Game 1 of the Eastern Conference Finals on Sunday, ruining any chance they had to stun the world with another 3-0 series comeback.