Cam Newton denies ever receiving education from Auburn
Updated:
January 14, 2011
By Zaki, PhillyGameday.com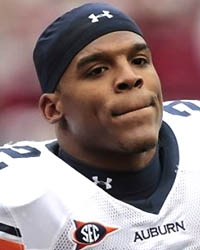 Despite recent allegations that Cam Newton received free textbooks, access to a state-of-the-art library, instruction from over 10 professors and one-on-one sessions with at least five tutors during his one-year stint with Auburn University, the quarterback maintains that he never took advantage of a any such academic benefits.
"I always had guys breathing down my neck about taking advantage of classes, but I always refused," Newton said one day after declaring himself eligible for the NFL draft. "People can say what they want, but I didn't go to a single class when I was there. Not one. I promise you the only way those professors even know who I am is through the news."
As of press time, more than 50,000 current and former student athletes have also come forward to deny charges that they ever took advantage of a free education from their respective schools.
Zaki is the Chief Rocka and senior writer for PhillyGameday.com and thinks you should hurry up and follow the site on Twitter and Facebook before it's too late.