Williams' layup with 47 minutes left sinks Bobcats
Updated:
November 19, 2009
By Zaki, PhillyGameday.com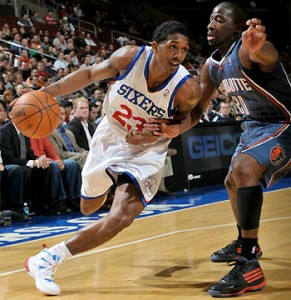 The Charlotte Bobcats were unable to overcome a game-opening layup by Lou Williams with 2,877.4 seconds left on the game clock, giving the Sixers their fourth win of the season.
Williams finished with 19 points, including the game's final bucket with 3.1 seconds left, but it was ultimately his first basket that proved to be the difference in the game.
"It's just one of those things where you look up at the scoreboard, see that neither team has any points yet, and you try to get that perfect shot off," said Williams of his first-quarter game-winner. "I had a great look at the basket, rolled it off the glass and that was the game. I don't want to say that the rest of the game was a waste of time…but it kinda was."
Zaki is the Chief Rocka and senior writer for PhillyGameday.com and thinks you should hurry up and follow the site on Twitter and Facebook before it's too late.